In the latest episode of North Untapped, we spoke to Yurii Sheliazhenko, a peace advocate based in the Ukrainian capital of Kyiv, and Yves Engler, a fellow with the Canadian Foreign Policy Institute, about Russian President Vladimir Putin's brutal invasion of Ukraine and Canada's role in fuelling the geopolitical tensions at the heart of the conflict.
Sheliazhenko explained that the current conflict is not only a product of Putin's violently militaristic leadership in Russia, but is also part of a culture of militarism that extends across the world.
Russia spends 4.3 per cent of its GDP on its military, the third-highest in the world, followed by the United States, which spends 3.7 per cent.
Sheliazhenko said it has been "horrible" to live in Kyiv during Putin's invasion. "Every day sirens are calling, and some sort of shells are flying nearby," he explained. "And my home is shaking at night. It of course sometimes makes [it] hard to sleep."
Sheliazhenko believes he lives in the only country in the world where the police and security forces are publishing recipes for making molotov cocktails, which the authorities are encouraging ordinary Ukrainians to use against Russian troops.
Sheliazhenko noted that amid the devastating invasion, American weapons manufacturers like Raytheon and Lockheed Martin have enjoyed rising stock prices, while Russian "war profiteers" and military contractors have also benefited.
"So-called enemies are always partners in this brutal game of mass-killing," he said.
"So-called enemies are always partners in this brutal game of mass-killing."
Sheliazhenko said that by sending more weapons into Ukraine, NATO countries like Canada are prolonging the violence.
"That's why we should commit ourselves to [the] development of peace talks," he explained. "This conflict is first of all, between the West and East, and to stop this conflict the West should negotiate with the East, both [U.S. President Joe] Biden with Putin."
To date, Sheliazhenko continued, Russia has provided military aid to Russian separatists in Eastern Ukraine, and Western countries have provided military support to the Ukrainian government. Both these involvements have helped escalate the conflict.
"When the West provides Ukraine military aid, Ukraine is discouraged from negotiating in good faith with Russia," Sheliazhenko explained. "Ukraine is encouraged to fight for the last drop of blood."
"When the West provides Ukraine military aid, Ukraine is discouraged from negotiating in good faith with Russia."
In particular, he said Canada is complicit in inflaming the conflict along with the U.S., noting that since 2015 Canada has led Operation UNIFIER to train the Ukrainian military and security forces.
Since Putin's invasion began, Canada has promised to supply Ukraine with 4,500 M72 rocket launchers, 7,500 hand grenades, 100 anti-tank weapons systems, 2,000 rounds of ammunition and other military wares.
"All of this means more death and destruction, and more profits for war profiteers, and it is not serving the cause of international peace," said Sheliazhenko.
Engler agreed that Canada deserves a share of the blame for precipitating the likelihood of the current conflict.
"The leading criminal in all this is the president of Russia that chose to do this full-scale invasion, but you find that if you look at the president of the U.S., you look at other NATO countries, and Canada, [these] are some of the others that have their hands in all this," Engler explained.
"The Russian invasion is a flagrant violation of international law that needs to be condemned, but there is a whole context," he continued, noting that Canada assisted in the 2014 overthrow of the Viktor Yanukovych government in Ukraine that had maintained warm relations with Moscow.
"The Russian invasion is a flagrant violation of international law that needs to be condemned, but there is a whole context."
Former Ukrainian president Petro Poroshenko, who took power after the 2014 uprising, called then-federal defence minister Jason Kenney the "godfather" of the modern Ukrainian military because of Operation UNIFIER, Engler noted.
"The Canadian government has been supporting the elements within Ukrainian political life that want to align with the West, want to align in some cases with NATO, in some cases just with the European Union," he added. "More broadly, the Canadian government has been pushing NATO expansion."
Engler recalled that throughout the 1990s and early 2000s, Canadian news stories about the push for NATO expansion consistently mentioned the fact that Russia was strongly opposed to the Cold War-era alliance's enlargement towards Russia's borders.
As recently as January, Engler noted, NATO countries refused to rule out letting Ukraine join the military alliance, and last year Canadian military officials continued to discuss "enhancing" the Ukrainian army's "interoperability" with NATO forces.
"The last thing you want to do is to amp up discussion of Ukraine joining NATO if you care about avoiding war," said Engler of the comments made by Canadian officials prior to the invasion. This week, Ukrainian President Volodymyr Zelensky conceded his country will not join NATO.
Listen to the full episode here.

---
Housing Struggles Grip British Columbia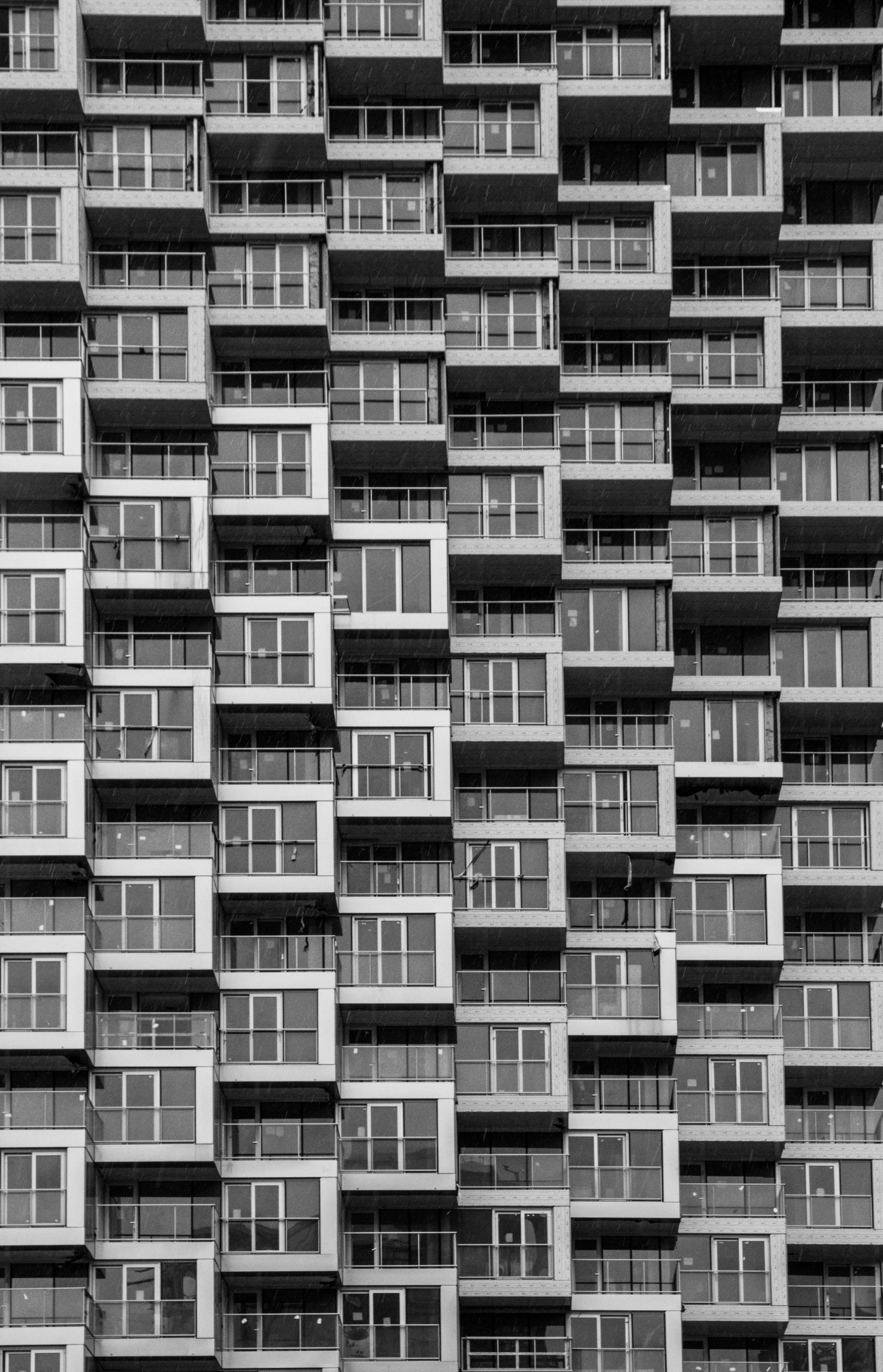 As reported by The Canadian Press Wednesday:
"[B.C. Housing Minister] David Eby said Wednesday the government used anonymized data from multiple ministry databases to paint a picture of homelessness across B.C. in 2019. It found trends like high per capita rates in northern rural communities and among men … A total of 23,000 people experienced homelessness at some point in 2019, [a B.C. government] report says. Just over half of them were temporarily homeless rather than on a chronic basis."
Doug King, executive director of the Together Against Poverty Society in Victoria, told CP:
"From our perspective, it's important that conversations about homelessness also talk about affordability in the housing market."
B.C.'s 2019 homelessness figures come at the same time as a report about how rising rent prices and low vacancy rates are squeezing out tenants in the northern B.C. city of Prince George. As reported by CBC News Thursday, the city faces a rental crisis and will need "thousands of new homes to be built in under a decade to offset the effects, according to a new report presented to city council this week."
What we found: According to the Canadian Rental Housing Index, the regional district of Fraser–Fort George, which encompasses the City of Prince George, ranks as "unaffordable" for low-income residents. Those in the lowest-income group need to spend an average of 59 per cent of their income on rent and utilities.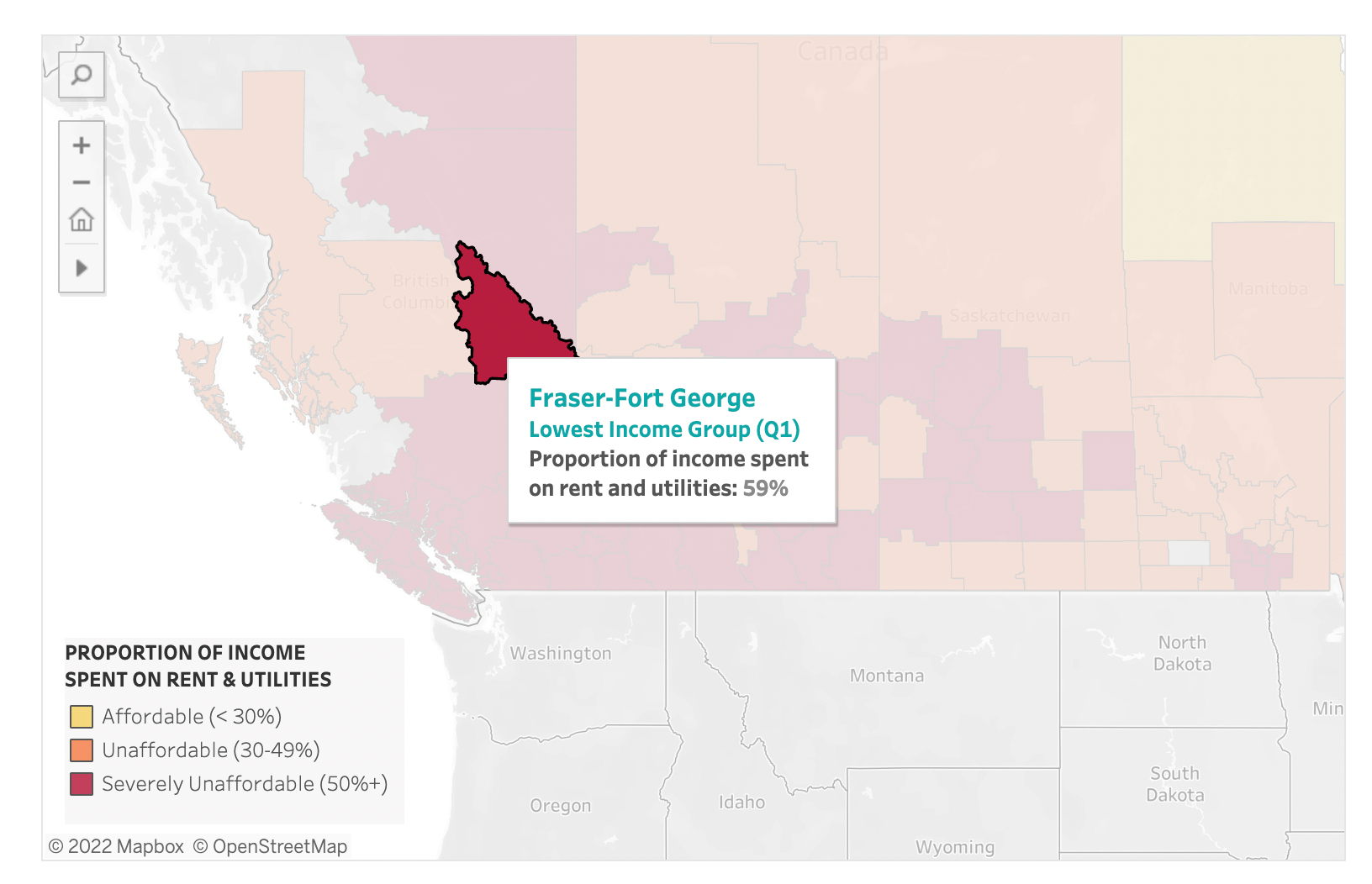 In Metro Vancouver, those in the lowest-income group spend 91 per cent of their income on rent and utilities, and those in the second-lowest income group spend 36 per cent of their income on such expenses.
Back in 2019, a report from the Canadian Centre for Policy Alternatives found that in Metro Vancouver alone, "To fully address [the region's] housing crisis, an ambitious program of building 10,000 new units of non-market rental housing annually is needed, including public housing and co-ops that are truly affordable for ordinary households."
---
$860.2 billion
Data of the day from Statistics Canada: "The value of unpaid household work in Canada, based on a gross opportunity cost, rose to $860.2 billion or 37.2% of nominal GDP in 2019, which was larger than the total contributions of the manufacturing, wholesale and retail industries."
The Stat Can report published Thursday continues: "While women continued to do the majority of unpaid household work, their share of the total monetary value of unpaid household work was less than the share of men. This difference between women's share of the hours and monetary value of unpaid household work is directly attributable to the market wage gap between men and women."
---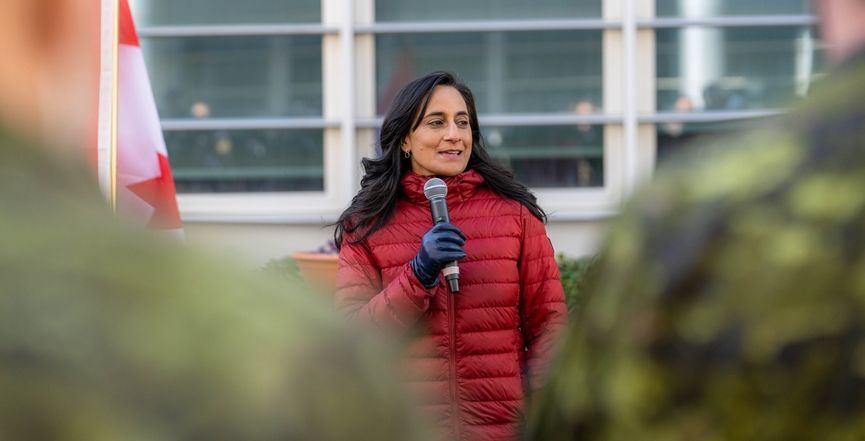 Other News
Defence Minister Anita Anand said Wednesday she will present a range of military spending options to cabinet ahead of the upcoming budget, which could result in a significant jump in Canada's defence spending to more than two per cent of this country's GDP, CBC News reported.
A transparency organization is warning that Canada is being marketed as an attractive place to buy or create shell companies that can be used to hide the ownership of assets, The Tyee reported Thursday.
An Indigenous woman whose newborn baby was removed by police and social workers in 2019 has proposed a class-action lawsuit against the Manitoba government, The Canadian Press reported Thursday.
---
Catch Up On Our Latest Content
Get all the latest posts delivered straight to your inbox.
Processing your application
Please check your inbox and click the link to confirm your subscription.
There was an error sending the email