The streets of Ottawa returned to a relative calm last week following a weeks-long occupation led by a throng of far-right activists opposed to public health protections, but solidarity protests in support of the movement have continued across the country.
Despite the federal government's short-term invocation of the Emergencies Act and the arrests of several of the occupation's leaders, the protest inspired copycat efforts abroad, and the possibility of more protests to come in Canada remains.
The occupation of Ottawa followed a larger trajectory of far-right movements fusing with anti-lockdown and anti-vaccine protests during the COVID-19 pandemic, a trend also seen in the United States and Western Europe.

Montreal anti-fascist activist Jaggi Singh noted that anti-lockdown, COVID-denying protests have occurred in Canadian cities big and small since the very beginning of the pandemic, often ranging in size from a few hundred to a few thousand people.
"At the beginning, they were against lockdown measures, or saying that COVID doesn't really exist," Singh told The Maple. "That morphed into being against vaccines … and to this was added a mishmash of people who are conspiracy theorists. Unfortunately, people from the far-right also got involved and were given platforms in those events."
Singh said Montreal tends to be less receptive to far-right demonstrations than other parts of Quebec, notably Quebec City, where thousands of convoy supporters converged last month. He explained that local anti-fascist groups have successfully countered previous far-right demonstrations in Montreal over the past five years, be they Islamophobic or more generally xenophobic.
On Feb. 12, a group in Montreal that had been regularly gathering to protest public health protections moved away from their usual spot in the downtown core. "They moved north to Jarry Park, because it's closer to the Trans Canada Highway where people could stop on their way to Ottawa," said Singh.
Local anti-fascists organized a modest counter protest to the pro-convoy demonstration, he explained.
"In the end, they did not have any rigs or trucks exit from the highway to try to join their protests," said Singh. "Instead, it was one of the usual protests, with perhaps a larger turnout than they usually would have gotten because of what was happening in Ottawa."
Canada's far-right has found fertile ground to develop in parts of Quebec, particularly in the last few years with the proliferation of Islamophobic groups like La Meute.
A leading far-right figure who was involved in organizing the Quebec component of the convoy protests was Bernard "Rambo" Gauthier, who has been described as a promoter of radical Islamophobia.
Another important figure in the pro-convoy movement is former Quebec MP and leader of the far-right People's Party Maxime Bernier, who served pancakes at the Ottawa occupation and gave a speech at the solidarity protest in Montreal.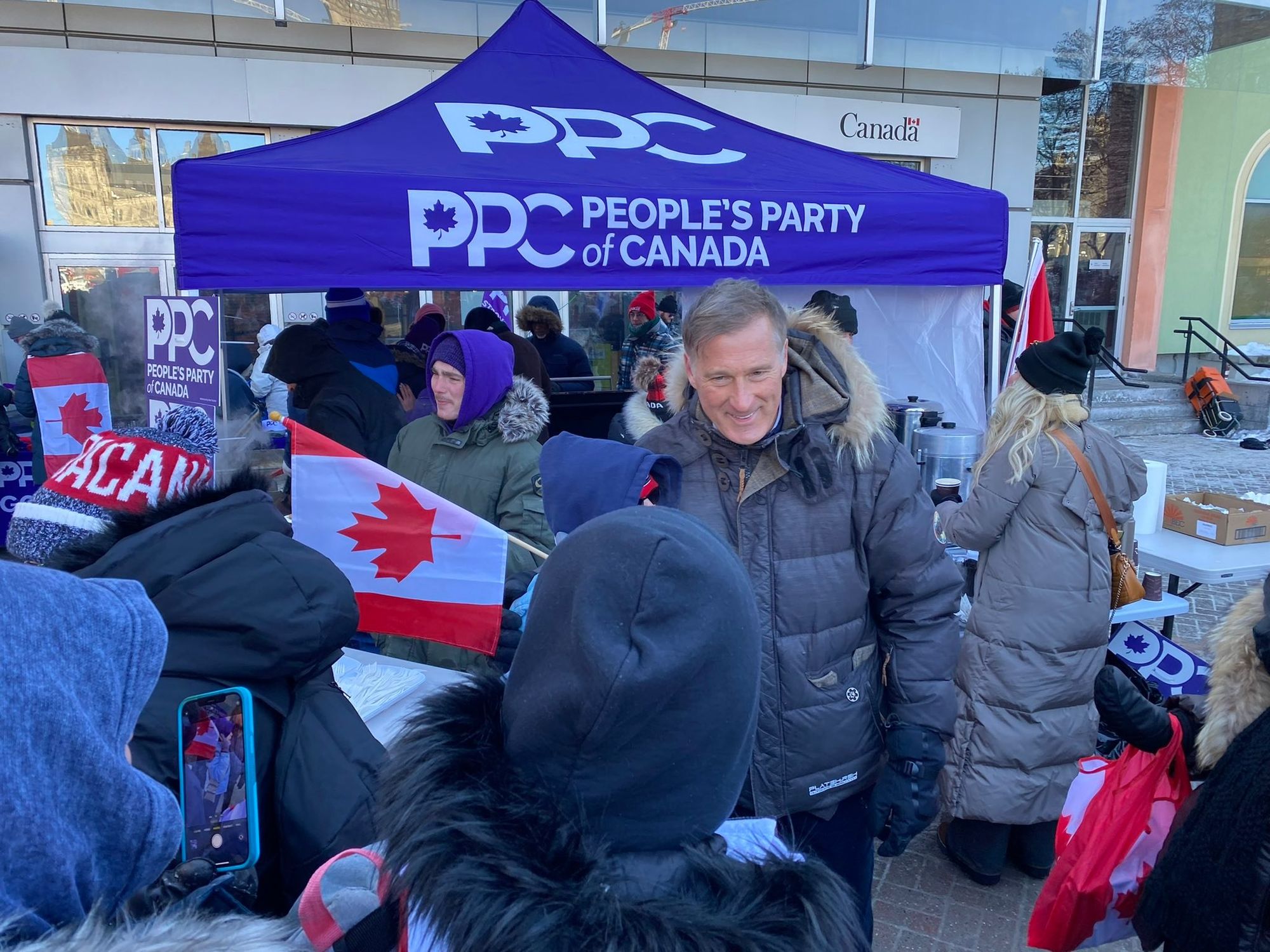 Singh explained that he engaged some of the Montreal protesters in dialogue, with mixed results. He told them he agreed that it is unfair to blame the COVID-19 public health crisis solely on unvaccinated people, given Canada's high vaccination rates.
Singh said the real problem is underfunding of the healthcare system, which struck a chord with some protesters. However, when he presented proof to the protesters that they were associating with a movement led by known racists, they either dismissed or minimized the facts, or claimed they didn't matter.
"All three of those are not acceptable to a movement that we're trying to build that is anti-racist and working class," said Singh. "You can't have that dialogue when Maxime Bernier is your featured speaker, or you're completely oblivious to the fact that there are people who are known white supremacists and Islamophobes and anti-Semites."
In Singh's experience, there is little hesitation among anti-fascist organizers about the need to prevent openly far-right groups like La Meute or Soldiers of Odin from accessing the streets.
However, he explained, public space has been ceded during the course of the pandemic, partly because of health restrictions that prohibit large gatherings, to a "mish mash" of conspiracy theorists and other far-right elements who are less explicit about their views.
"Those far-right people, when they're giving their public speeches over the past 18 months, and even now, they're not talking about that other side of their political viewpoint: Anti-immigrant, homophobic, anti-Muslim, all of that," said Singh.
"So that's been the problem; that terrain has been ceded over, and now we're taken aback."
In addition to countering those pushing overtly far-right messaging, Singh said anti-fascist organizers must also recognize the need to counter neoliberal capitalism.
"We should not be blaming other people, including unvaccinated people," he explained. "Rather, we should be blaming underfunding and undermining of the public healthcare system in the name of profit, in the name of big corporations for literally 30 years as the main reason why we're worried about hospitals being overrun."
Countering the Convoy in Winnipeg
In Winnipeg, pro-convoy protesters occupied part of the city's downtown core in front of the Manitoba legislature for three weeks before clearing out. According to a CTV News report last week, a small number of the occupiers vowed to maintain a presence in the city's Memorial Park.
The long absence of opposition to the convoy by police or municipal officials encouraged local activists to take matters into their own hands and form a group called Defend Winnipeg.
One of the organizers, Omar Kinnarath, told The Maple the group initially focused on documenting the convoy, taking photographs and videos. Activists also noted the license plates and company decals belonging to the vehicles involved with the protest.
In addition to this, Defend Winnipeg took it upon themselves to organize a neighbourhood safe-walk program to escort people who were concerned for their safety.
"That's the part of it that folks don't see," said Kinnarath. "They just see the rallies and the action and all that kind of stuff; they don't really see what we're trying to achieve here in the local neighbourhood."
Kinnarath pointed out that opposition to the convoy ultimately proved to be far more diverse than he had anticipated. Defend Winnipeg represented a broad swathe of the city's population.
"So many people from all different walks of life have been jumping in to help," explained Kinnarath. "I think we're on the verge here of creating a mass movement in the city that brings in people from all spectrums of society, rather than just that sort of left-wing bubble."
He added, "the help that we've gotten and the suggestions we've got have come from places that we never expected."
According to Kinnarath, a Defend Winnipeg counter rally held on Feb. 12 mustered around 500 attendees despite the minus 35 degree weather.
"We proved to everyone that we didn't need the cops," said Kinnarath. "There were more riot cops who showed up than there were convoy protesters."

Kinnarath stressed that a simple demonstration of the vast difference in size between the protest groups was in itself an effective tool to challenge the convoy supporters.
He also pointed out that organizing a counter-protest of several hundred people was accomplished relatively easily through word of mouth and communication channels established by existing organizations.
By contrast, Kinnarath said, the convoy took longer to mobilize and rarely managed to secure large numbers outside of Ottawa.
The Winnipeg counter protest avoided confrontations and yelling matches with the convoy supporters, he added. "We showed the police what an actual non-violent, well-organized, community-based action looks like."
Kinnarath said the group's longer term strategy is building a critical mass of people in the community willing to counter the convoy's far-right politics. At the same time, the movement is up against a local police force that gave protection to the occupiers and took a more heavy-handed approach with counter protesters.
As the Feb. 12 counter protest was wrapping up, Winnipeg police detained an Indigenous person who had been attempting to block a pro-convoy vehicle.
"Cops … arrested one Indigenous person for doing the exact same thing literally meters away that [had] been going on for over a week," said Kinnarath. "[It was] typical racism. That shows where the police are at."
Kinnarath explained that the brazen disparity between how police chose to respond to counter protesters versus the occupation has opened up broader local conversations about defunding and abolishing the police.
"The overall sense in Winnipeg right now is the police need to go," said Kinnarath. "Suburban moms and grandmas and people even higher up in the business community [are] saying, hey, we have a problem here."
He added, "it opens up the entire conversation now of the complete inefficiencies of our civic government and our police. It just feels that this is going to be a catalyst for something else."
The Situation in Ottawa
Maintaining the peace was particularly difficult in Ottawa, where the epicentre of the far-right occupation was located. Angella MacEwen is a resident of Ottawa's Centretown district and a member of the steering committee for a group called Community Solidarity Ottawa (CSO).
MacEwen echoed Kinnarath's point that confrontation with the occupiers was not a priority.
"Our first march was meant to provide a space for residents of Ottawa to push back against the hate we experienced from the convoy and to provide an alternative set of solutions to the issues facing working-class people," MacEwen told The Maple. "We had about 50 volunteers trained in de-escalation to make sure the march was a safe space for people to come together."
CSO grew out of conversations between labour and community activists, again demonstrating that resistance efforts came about more or less organically from within existing organizations and social circles.
MacEwen said that by working through these networks, her group was able to quickly attract over 100 volunteers and 10 times as many supporters through its website. "Our first rally and march on Feb. 12 attracted 4,000 people," she noted.

Using pre-existing social networks wasn't just useful for organizing marches and rallies, but further helped in the coordination of more spontaneous actions that took place the following day, some of which were more effective at de-escalation than any efforts made by police.
"When local residents organized several blockades of convoy vehicles, we used our communication networks to rally support, and many of the volunteers from the march came back out and used their de-escalation training to keep the community blockades non-violent," said MacEwen.
"In the case of the Billings Bridge convoy blockade, we negotiated with convoy members to take down their pro-convoy signs and hand over their jerry cans of fuel."
CSO also used its network and collective organizational knowledge to get the word out on other important community efforts.
"We collected and shared information about other community initiatives, such as a worker relief fund and a community safety walk group," said MacEwen. "We also shared legal education to help community members taking action, with tips to protect themselves and information about rights when engaging with police."

MacEwen said the goal of community organization isn't limited to reacting to a single event, but rather to encourage long-term growth and development.
"Our goal is to build a working-class movement within communities that can protect themselves and give no room for hatred to grow," she explained. "We are looking at a much longer term project. The march was successful in showing that there is strength in the community coming together to support each other, and we hope to build on that."
In this regard, the counter-protesters had a strong organizational foundation to work from and a clear sense of their goals, both long and short term.
By contrast, observers have noted the politically illiterate goals of the occupation leaders, whose demands initially included calling on the Senate and governor general to overrule Canada's elected government and remove all public health protections.
MacEwen, like Singh, described attempts to engage with some of the occupiers, noting that not everyone who participated necessarily considered themselves to be motivated by far-right ideology.
"Some of the convoy supporters' concerns mirrored our own, such as too much corporate power and not enough investment in health care," she explained. "But there was also evidence that they were speaking from the same playbook [as the explicitly far-right elements in the convoy] in terms of the misinformation that they were repeating about being able to take down the government or about the risks of COVID-19."
Similar to Singh's experience in Montreal, MacEwen said that many convoy supporters her group spoke to simply dismissed or minimized evidence of the convoy's far-right influences.
"Fascist movements have been very capable of capitalizing on existing discontent to mobilize, and there are lots of discontented people with access to misinformation networks right now," she noted.
MacEwen said she and CSO see the Canadian left's role in opposing the growth of the far-right as being intertwined with larger organizing efforts.
"It's about mutual aid, providing anti-facist education, providing a forum for community members to come together and build their own solutions to working-class issues," she explained. "This work is ongoing, and we're seeing community organizations and labour groups across the country working to build an ongoing resistance, and build solutions to poverty and inequality, to racism, ableism, and other forms of hate that we've seen growing in our communities."
The occupation has been cleared from downtown Ottawa, but the Canadian left's work continues. CSO is planning an accountability rally for March 5.
"We're looking to hold police and elected officials accountable," said MacEwen. "The way police interacted with the convoy was very different than the experiences of many racialized people, Indigenous land defenders and left protesters. This is made more serious by the fact that some police officers spoke out in favour of the convoy, and some gave financial support."
She continued, "police inaction was explained as a lack of resources by some in police leadership, and we have grave concerns that this will be used as an excuse for police forces to seek more resources, further starving the community of funding for alternative support resources."
Taylor C. Noakes is an independent journalist and public historian from Montreal.
Alex Cosh is the managing editor of The Maple.
Get all the latest posts delivered straight to your inbox.
Processing your application
Please check your inbox and click the link to confirm your subscription.
There was an error sending the email