Ahead of a meeting with Qatar's minister of foreign affairs at the FIFA World Cup last year, International Development Minister Harjit Sajjan was briefed to lobby for a potential deal between a Canadian light-armoured vehicle (LAV) supplier and the Qatari military.
A briefing note prepared for Sajjan before the meeting and obtained by The Maple through an access to information request contains what appears to be the first direct acknowledgement from a government ministry that the potential deal between General Dynamics Land Systems - Canada (GDLS) and Qatar is in the works.
The talking points in Sajjan's briefing note stand in contrast to Global Affairs Canada's (GAC) official statement ahead of the World Cup meeting, which said the talks would focus on "humanitarian assistance and international development."
Sajjan's itinerary indicates he met with Sheikh Mohammed bin Abdulrahman Al-Thani, Qatar's deputy prime minister and minister of foreign affairs, on November 23 at the tournament, which attracted controversy over Qatar's poor human rights record and its mistreatment of migrant workers in particular.
The briefing note shows that as part of discussions to enhance Canadian-Qatari trade relations, Sajjan intended to demonstrate Canada's eagerness to "expand bilateral defence cooperation under the framework of the Canada-Qatar Defence Cooperation Arrangement (DCA), especially in ways that complement bilateral commercial interests."
DCA was signed in August 2021, with GAC issuing a vague statement at the time that suggested the agreement would "strengthen Canada's bilateral defence relationship with Qatar and provide an overarching framework for the coordination of various defence cooperation activities."
At the World Cup, Sajjan was specifically instructed to lobby for the potential deal between Qatar and GDLS, which manufactures and exports light-armoured military vehicles, most controversially to Qatar's neighbour and regional rival, Saudi Arabia. The Saudi monarchy has waged a brutal military campaign in Yemen since 2015.
The briefing note reveals that Sajjan was to tell Al-Thani that Canada was "pleased that GDLS is interested in working with the Qatari Military for the supply of light-armored vehicles (LAVs) as well as other opportunities."
Sajjan was to also explain that "this partnership would bring Canada and Qatar significant benefits." The note added that Canada "sincerely hope[s] to see this opportunity for cooperation between our countries realized."
A statement from Qatar's foreign ministry indicates that Sajjan met with Al-Thani again on March 5 on the sidelines of the UN Conference on the Least Developed Countries in Doha, reportedly focusing on "development cooperation and partnerships between the two countries."
The March meeting was mentioned only in passing in a press release from GAC.
Sajjan's itinerary for his World Cup visit shows that the day before his meeting with Al-Thani, the Canadian minister attended a closed-door meeting with the Canadian Business Council in Qatar at the Canadian embassy in Doha, where GDLS representatives were also expected to attend.
During his visit, Sajjan was also briefed that Defence Minister Anita Anand had recently spoken of the possibility of Qatari personnel joining the Canadian Armed Forces' "developmental courses" as well as Canada providing "collective or individual LAV-specific training" in an October 2022 meeting with her Qatari counterpart.
Qatar, which is ruled by an authoritarian regime that suppresses basic democratic and other civil rights, was added to Canada's Automatic Firearms Country Control List (AFCCL) in August 2022 (LAVs are built with mounted machine guns).
Last December, The Globe and Mail reported that Qatar's addition to the AFCCL was "likely indicative of a major deal in the works," similar in scale to the Canadian LAV exports to Saudi Arabia. At the time, however, it was not certain what specific kind of export may have been under discussion.
Over the past several years, Qatar has rapidly built up its military, with arms imports increasing by 311 per cent between 2013 to 2017 and 2018 to 2022, according to the Stockholm International Peace Research Institute (SIPRI). Qatar was the world's third-largest arms importer between 2018 and 2022, behind Saudi Arabia and India.
Sajjan's briefing note for his meeting with Al-Thani states that Qatar's military modernization is motivated in part by a desire to "develop comparable capabilities to western nations, especially for purposes of multi-national deployments and inter-operability."
Samuel Perlo-Freeman, the research co-ordinator at the United Kingdom-based Campaign Against Arms Trade, told The Globe last December that regimes like Qatar often bolster military capabilities both to stave off external threats and to "guard against any internal opposition, to maintain their power."
Ontario-based manufacturer Terradyne has previously exported armoured vehicles to Qatar for use by the country's special forces and riot police, according to The Globe, with sales spiking significantly in 2019.
The Maple contacted GDLS asking for details about its potential LAV deal with Qatar, including the value and quantity of vehicles, and whether any such deal has been finalized. GDLS did not deny that such a deal was in the works, but directed The Maple to Qatar's foreign ministry for details. The Qatari ministry did not respond to multiple requests for comment from The Maple.
GAC said it does not comment on commercial activities for confidentiality reasons. The Canadian Commercial Corporation (CCC), a crown corporation that helps Canadian arms manufacturers secure contracts with foreign governments, told The Maple that it is not party to any potential deal between Qatar and GDLS.
The Maple was told by an arms monitoring expert that it would be unusual for CCC to have no role in a transaction of such potentially high value.
Human rights concerns
Critics have raised concerns about Canadian companies shipping arms to Qatar, which, like Saudi Arabia, has a deeply problematic human rights record.
According to Amnesty International, Qatar continues to abuse migrant foreign workers despite promising reforms ahead of the World Cup.
"The government failed to implement and enforce reforms, enabling abusive practices to resurface and reviving the worst elements of kafala (the sponsorship-based employment system)," the human rights group explains on its website. The Qatari government also curtails freedom of expression "using abusive laws to stifle critical voices," and engaging in same-sex relationships is punishable with up to seven years in jail.
Qatar also suppresses women's rights, with women requiring permission from "male guardians" to make basic life decisions, including in regards to marriage, studying abroad, working in government jobs and receiving reproductive healthcare. Such laws stand in stark contrast to the Trudeau government's purported objectives in its "feminist" foreign policy.
Concerns about advancing human rights were absent in the list of objectives laid out in Sajjan's strategic overview for his visit to Qatar.
However, redacted portions elsewhere in the document suggest he was briefed on some of those issues, and the minister's tweets suggested the topic came up in conversations with Qatari officials. A mission report from the Canadian embassy in Doha and obtained by The Maple also outlines various diplomatic efforts to encourage labour reforms.
Sajjan also met with Moza bint Nasser, the chairperson of the Qatar Foundation and an education advocate. The Canadian minister was briefed to convey his government's interest in prioritizing girls' education.
Ahead of a press conference held with U.S. Secretary of State Antony Blinken and Mexico's Secretary of Foreign Affairs Marcelo Ebrard (both representing countries that will jointly host the 2026 World Cup with Canada), Sajjan was provided with talking points if the subject of human rights came up.
His cue stated: "Canada recognizes the potential adverse impacts major sporting events [sic] and is very supportive of considering human rights strategies when awarding mega-sporting events."
Qatar's military plans?
Qatar initially sent a ground force of around 1,000 troops to assist Saudi Arabia's campaign in Yemen, but has since withdrawn. The conflict itself has been paused since last fall in a tense de-facto ceasefire.
Kelsey Gallagher, a researcher with the arms monitoring group Project Ploughshares, told The Maple that Qatar's addition to the AFCCL last August meant that a LAV deal with the Gulf country was expected.
"The central concern is that Canada is arming yet another deeply authoritarian state," said Gallagher. "Qatar does not treat its own people well, and as we saw during the World Cup, it treats non-citizens even worse."
Gallagher noted that Qatar was a party to the Yemen conflict until a diplomatic spat emerged between Qatar and Saudi Arabia in 2017. This means there is less concern about Qatar using Canadian-made LAVs in the Yemen conflict — which as of the end of 2021 was estimated to have resulted in the deaths of at least 377,000 people — than Saudi Arabia.
However, Gallagher explained that in addition to Qatar's poor treatment of its own population, it has meddled in other regional conflicts, including in Syria and Libya. LAVs are known for being flexible in their use, meaning such vehicles can also be deployed to crack down on civil unrest.
"In places like Qatar, there's overlap between the police and the military, and there have been instances of LAVs purportedly being used against protests [elsewhere in the region]," said Gallagher, citing the example of Bahrain, which deployed armoured vehicles when it quashed protests in 2011 and 2012.
In addition to financial benefits, arms deals also carry political leverage. Since Saudi Arabia is viewed by Canada as an ally, providing high-tech military goods can serve as a means of "power projection," Gallagher said. A similar move could be in play with Qatar.
"With these arms deals, especially the higher value ones, there's always some level of political consideration," Gallagher explained. "The arms trade is itself deeply political."
Responding to questions about Qatar's human rights record, GAC told The Maple:
"Canada has one of the strongest export controls systems in the world (…) All permit applications for controlled items are reviewed on a case-by-case basis under Canada's robust risk assessment framework, including against the Arms Trade Treaty criteria which are enshrined in Canada's Export and Import Permits Act (EIPA)."
Alex Cosh is the managing editor of The Maple.
Edited by Davide Mastracci.
---
Go deeper
Here are a few stories from our archive that expand on today's story
Attendees at the 2022 Farnborough International Airshow (FIA), including two Canadian trade ministers, were sheltered from the United Kingdom's sweltering heat wave last summer as they mingled with arms dealers and buyers from around the world.
A Canadian arms monitoring group drew attention to the fact that seven months before the Myanmar military regime executed four pro-democracy activists, the regime acquired a plane powered by a Canadian-made engine
---
Top Maple story this week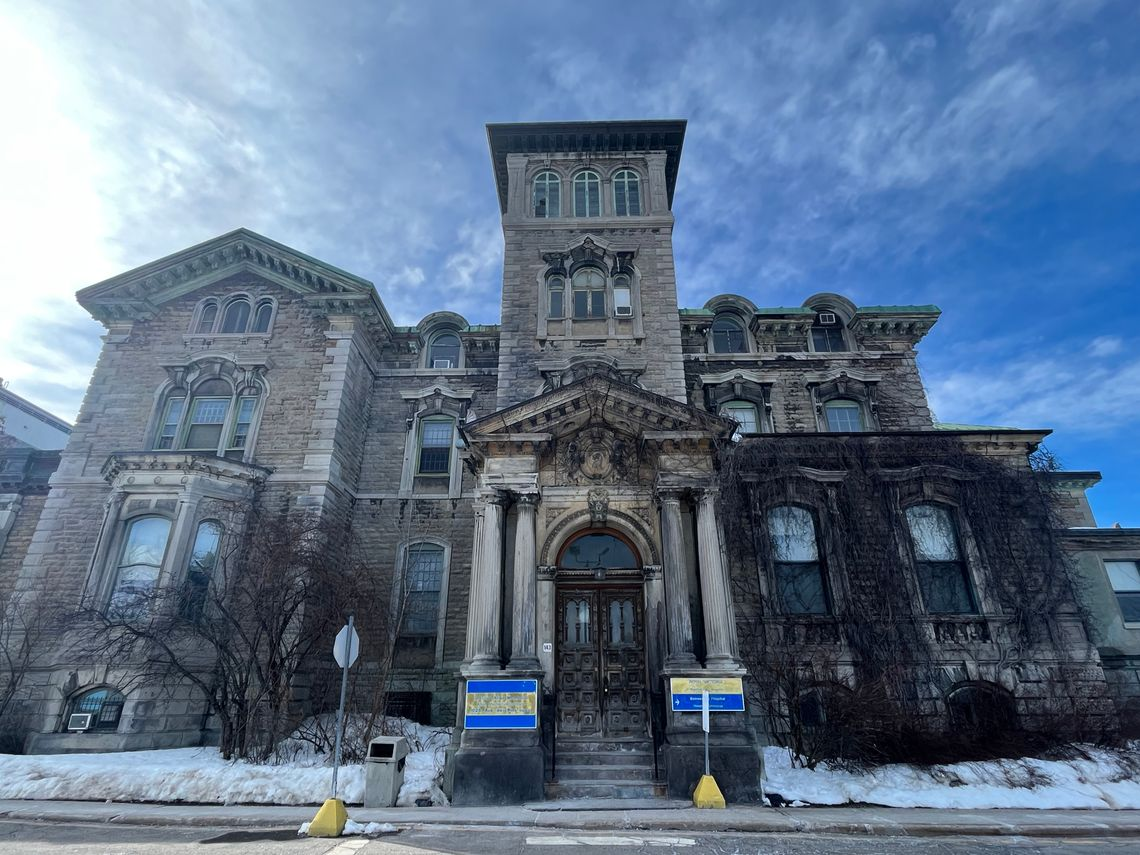 Situated near the top of Mount Royal, the Allan Memorial Institute (informally known as the "Allan") is a grim, Victorian-style building which used to be a psychiatric institute and research facility. Founded in 1940, it currently offers outpatient psychiatric services for the Montreal General Hospital, as part of the McGill University Health Centre.
Despite the multiple exposés that came out in the 1980s and 1990s, many are still unaware of the Allan's dark past, or how an academic working at McGill received covert money from the CIA at the beginning of the Cold War to conduct experiments on unwitting patients as part of the infamous MKUltra program.
---
Catch up on our latest stories
Get all the latest posts delivered straight to your inbox.
Processing your application
Please check your inbox and click the link to confirm your subscription.
There was an error sending the email