From The Canadian Press: Restaurant workers across the country are facing racism, sexual harassment and abuse from angry customers as workers try to enforce provincial vaccine passport requirements, The Canadian Press reported Sunday.
Juliana Murphy, a server at a Halifax breakfast restaurant, told CP: "I've had grown men yell and raise a fist at me just because of contact tracing. I knew asking them to show me proof of their COVID-19 shots would be worse."
According to CP, restaurant workers say most customers respect the rules, but others have become argumentative and angry, creating an environment the workers describe as exhausting and stressful.
Workers say they are being regularly grilled about vaccine passport policies (which are determined by provincial governments, not individual restaurants), and that a small number of customers have become belligerent and intimidating.
Some restaurant operators have hired security guards to check vaccine passports before allowing customers to come inside, CP reported. However, most establishments require front-of-house staff to do that job.
CP noted that restaurant workers are typically younger, receive lower wages and are more likely to work part time than workers in other sectors.
Data from Statistics Canada shows a majority of workers in the accommodation and food services sector in 2020 were women. As well, workers in the sector made an average hourly wage of $17.07 last year, the lowest of any employment sector.
While food service workers generally make a significant portion of their income through tips, restaurant workers say angry customers who object to vaccine passports are tipping less, according to CP.
As well, Murphy told CP: "Some of them seem to take this as an opportunity to be racist. I've repeatedly noticed that some customers give our Syrian and Indian employees a much harder time. They get really angry when they ask for their proof of vaccines."
Sean Bridge, a part-time restaurant worker in Toronto, told CP: "We're trying to enforce these rules but we've had zero training. It's a really uncomfortable situation to be in."
In addition to being paid lower wages, restaurant workers also have among the lowest rates of union membership. According to Statistics Canada, just 4.6 per cent of restaurant workers were covered by a union-negotiated collective agreement in 2020.
Read The Canadian Press' full story here.
To read about the connections between aggressive opposition to vaccine passports and the rise of the far-right in Canada, check out The Maple's reporting on this issue from last month.
Are you a restaurant worker who has experienced abuse from customers angry about vaccine passports? We want to hear from you, and will protect your identity if requested — please get in touch: hello@readthemaple.com.
---
Chrystia Freeland Says New OECD Tax Deal Will Raise Up To $4.5 billion Annually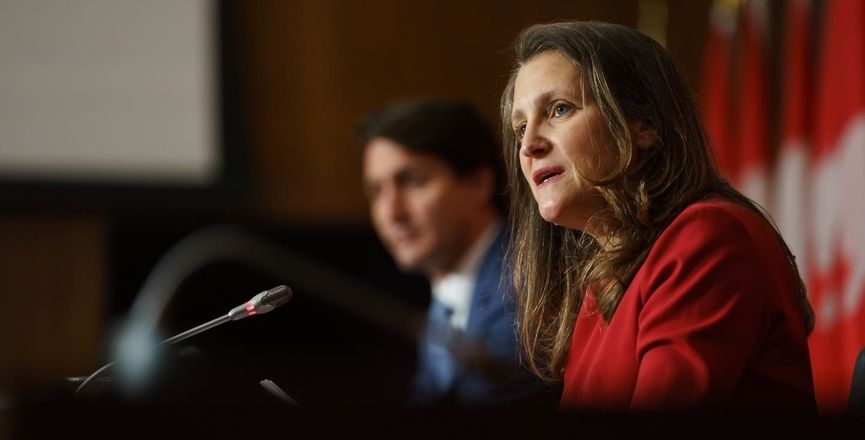 From CBC: Finance Minister Chrystia Freeland told CBC Saturday that Canada stands to collect up to $4.5 billion per year through an OECD deal that will require multinationals to pay a minimum corporate tax rate of 15 per cent starting in 2023.
After the deal was reached a week ago, the finance department said it would scrap the digital services tax laid out in this year's federal budget in a move strongly criticized by tax justice advocates.
Toby Sanger, executive director of Canadians for Tax Fairness, said in a statement earlier this month:
"Canada has just signed onto an OECD agreement that will give tech giants a massive tax break compared to what they would pay through Digital Services Taxes to many countries, including Canada ... The Digital Services Tax, which is supported by all parties in Parliament, was due to come into effect 1 January 2022, but would be eliminated as part of this OECD deal."
The statement added:
"Analysis by Canadians for Tax Fairness estimates that the taxes that tech giants such as Amazon, Google, Facebook, eBay and Uber would pay under this new deal will be less than half—and in some cases 100% less—than what they would pay through Canada's proposed Digital Services Tax."
However, Freeland told CBC the OECD agreement would raise more revenue for Canada than the digital services tax, which the Parliamentary Budget Officer estimated would raise around $4 billion over five years.
CBC noted that starting from 2024, the OECD agreement will also require multinationals — particularly digital giants such as Amazon, Facebook and Google — to pay taxes on profits in the countries in which they were earned.
Sanger told The Maple earlier this month that the terms of the OECD deal are "more preferential towards countries where there are more sales; that's the wealthier countries generally."
Read CBC's full story here.
---
In case you missed it: Facebook's reputational crisis in recent weeks is renewing calls for more regulatory oversight over the company and, in some cases, proposals for establishing alternative, democratically controlled social media platforms.
Last week, The Maple spoke with tech policy experts about what can be done to rein in the social media giant's corporate power.
Read The Maple's full story here.
One more thing: As Albertans head to polls today for municipal elections and a referendum on equalization payments amid Premier Jason Kenney's embattled leadership, polling data from Mainstreet Research released last week showed the Alberta NDP currently enjoys a 16-point lead over Kenney's divided United Conservative Party.
Kenney himself has an approval rating of just 22 per cent, the lowest among all Canadian premiers, according to data from Angus Reid.
---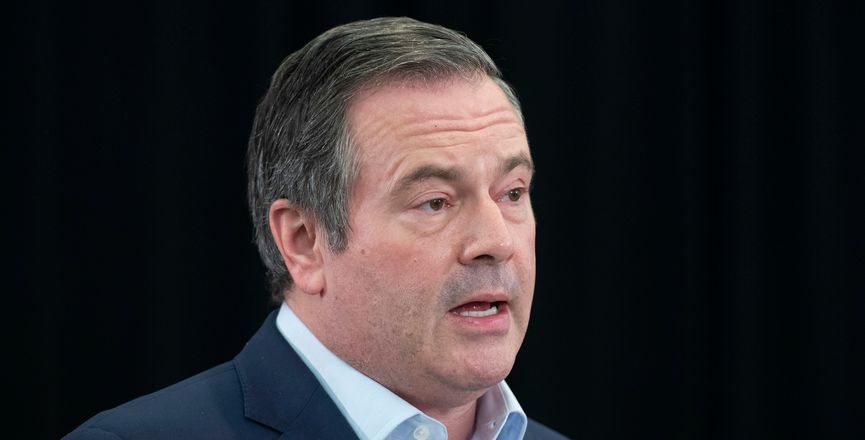 Weekend News
---
LISTEN: Interested in learning more about today's municipal elections in Alberta? In an episode of the Progress Report released Sunday, Calgary-based reporter and Maple contributor Jeremy Appel joins Duncan Kinney and Jim Storrie for a final review of the races in Edmonton and Calgary.
---
WATCH: In an interview with APTN News, NDP MP Charlie Angus discusses why he sent Prime Minister Justin Trudeau a letter asking why the federal government let the Catholic church renege on a $79 million deal for residential school survivors.
---
Commentary
In a column for the Toronto Star, Robin V. Sears asks whether unity in the federal Conservative Party is possible, noting that outside groups with fringe agendas on issues like abortion and gun rights have repeatedly attempted to use the Tories as a vehicle for their own priorities. "It's well past time for mainstream Canadian conservatives to start to fight to regain control of the party," writes Sears. "The fight needs to start with leadership selection."
In an explainer piece for PressProgress, Jeremy Appel looks at the third-party advertisers funding election campaigns in today's municipal election in Calgary, Alta. "With two consecutive polls showing progressive Calgary mayoral candidate Jyoti Gondek in the lead, right-wing standard-bearer Jeromy Farkas's campaign and its surrogates appear to be in panic mode — sounding alarm about an organized labour coup at city hall," writes Appel.
For Passage, Robert Hiltz argues that the NDP is a "lost party" that needs guidance. "The first major issue is the party's (2021 election) platform," writes Hiltz. "It's a document full of big ideas, but light on details about how to actually enact them. This sort of thing is fine if you're a much smaller party with little hope of winning any seats looking simply to get ideas on the agenda. But the NDP needs more if it wants to convince people it's serious about reaching goals such as national pharmacare and huge carbon emission reductions."
---
Catch Up Our Latest Newsletters
Get all the latest posts delivered straight to your inbox.
Processing your application
Please check your inbox and click the link to confirm your subscription.
There was an error sending the email