Written by Alex Cosh
Pierre Poilievre's landslide victory in the Conservative Party leadership race last weekend has prompted words of warning and criticism from some progressive political watchers.
The Ottawa-area MP of 18 years was the frontrunner throughout the leadership race, and in the end his victory was decisive. Poilievre secured 68 per cent of support from Conservative Party members in the first ballot, soundly defeating his nearest rival, former Quebec premier Jean Charest, who won just 16 per cent of the votes in the first ballot.
Poilievre swept to victory among Conservative Party members in all but six ridings across the country.
As explained by Global News, Poilievre is a career politician and longtime political operator:
"Before he was elected as an MP, (Poilievre) grew up running in Conservative circles, coming to Ottawa in 2002 as a political staffer for former Canadian Alliance leader Stockwell Day and grew up campaigning for the likes of leaders such as Jason Kenney."
In a separate Global article, Alex Boutilier remarked that "This is now Pierre Poilievre's Conservative party," adding: "Poilievre and his team will have the kind of free hand enjoyed by Stephen Harper – the only Conservative leader who won power – during the party's years in government between 2006 and 2015."
Poilievre's campaign policies included building pipelines in all directions, cutting "overbearing red tape and regulation," a "return" to what he calls "fiscal responsibility," and stopping the government from "printing money."
Poilievre's campaign messaging infused these standard conservative policies with rhetoric against "ruling elites" and an acknowledgment of a "mass transfer of wealth taking place from the hands of working class Canadians."
In his first speech as leader to the Conservative Caucus on Monday, Poilievre spoke to ongoing affordability struggles faced by many ordinary Canadians, slammed the Trudeau government's fiscal policies and called on the prime minister to commit to introducing no new tax increases.
"The cost of government is driving up the cost of living," Poilievre claimed. "Half a trillion dollars of inflationary deficits mean more dollars bidding up the cost of the goods we buy and the interest we pay." The Conservative leader then hinted at fiscal austerity, asserting that "budgets don't balance themselves."

Is Poilievre correct to blame inflation on government spending? Back in April, CBC News reported:
"Jean-Paul Lam, an economics professor at the University of Waterloo and a former assistant chief economist at the Bank of Canada, said government spending is one of many factors pushing prices up — but it's a relatively modest one … Economic support programs related to the pandemic are a significant reason the federal deficit is so large now … But that doesn't come close to explaining the rate of inflation we're seeing now."
Poilievre's speech made no mention of rising corporate profits, which have captured more in the current economic recovery than in any other previous recession, according to a study published by the Canadian Centre for Policy Alternatives earlier this summer.
In June, CCPA economist David Macdonald told The Maple: "As corporations increase profit margins, and attempt to maintain them, they can also be a driver of inflation, particularly in industries where there isn't a lot of competition, where there are monopolies or oligopolies, or a concentration of corporate power."
In April, Daniel Westlake, a political studies professor at the University of Saskatchewan whose research focuses on populism, told The Maple that Canadian conservative politicians like Poilievre have been mirroring a global rise of right-populist politics for some time.
"It's not surprising to see a populism that we've seen globally and a populism that we've seen provincially kind of working its way into the federal Conservative Party," said Westlake at that time.
Poilievre's landslide win last weekend prompted words of warning and criticism from some progressives, particularly regarding the Conservative leader's political track record.
On Saturday, the Canadian Union of Public Employees' national president Mark Hancock pulled no punches, stating:
"Pierre is a career politician who has been collecting a six-figure salary on the public's dime since he was 24, and he's spent every minute of his time in office fighting against fair wages, good pensions and a better life for working people. He is not a worker, and he definitely doesn't get what it means to be a member of the working class."
Similarly, Vancouver-based political activist and commentator Derrick O'Keefe wrote on Twitter:
"Poilievre is a fake populist. He is the establishment. A career politician who for 2+ decades has supported policies that've made the gap between rich and poor wider. The only way to stop him is with real anti-establishment politics taking on the billionaire class."
PressProgress (PP), meanwhile, documented Poilievre's track record of supporting policies that go against the interests of working people — contrary to his recent pro-worker rhetoric on the campaign trail and in his victory speech. PP's Emily Leedham wrote:
"Poilievre aggressively fought card-check legislation that would make it easier for workers to unionize in favour of a two-step process that gives employers more time to interfere in the union drive … Under Stephen Harper's government, Poilievre was one of the loudest supporters of the anti-union Bill C-377, a likely unconstitutional piece of legislation that tried to force Canadian labour unions to disclose all of their internal finances while big corporations would not have been subjected to the same rules."
Leedham continued:
"Poilievre is also a major proponent of bringing US Right-to-Work laws to Canada. Right-to-Work laws weaken the labour movement by making it more difficult for unions to collect membership dues which pay for the collective bargaining process."
Following the publication of that story, PP editor Luke LeBrun noted that several suspicious-looking Twitter accounts published posts supporting the Conservative Party leader in response.
Meanwhile, journalist Justin Ling tweeted that Poilievre's campaign "traded in bug-eyed conspiracy theories about the World Economic Forum, attacked the central bank, and identified with the anti-vaccine movement," and suggested that the new Conservative leader sees a pathway to a federal election victory by winning over non-voters and supporters of the far-right People's Party of Canada.
"Poilievre's campaign is not about winning 40% of the country and romping to government with a huge personal popularity," Ling said. "Poilievre expects to eke out a victory with a negative 20 approval rating and 35% of the vote."
Recent polling by IPSOS showed that only 23 per cent of Canadian voters have a positive impression of Poilievre, while 35 per cent have an unfavourable opinion of the new Tory leader. Furthermore, IPSOS found:
"Compounding these challenges, Liberal (53%) and NDP voters (50%) are united in their dislike of Poilievre, suggesting limited opportunity to recruit new voters to the Conservative ranks."
Ling drew criticism for writing that "Pierre Poilievre is not a white supremacist. He's not an anti-vaxxer. He's not an extremist. But, up to a point, he's willing to use them to win in a brutal election."
Responding to that claim, author and commentator Paris Marx tweeted:
"You can probably debate the first two points, but to say that Poilievre isn't an extremist is flat out wrong — unless far-right conspiracism is considered mainstream now. Justin's tweet is just a preview of how the media will help Poilievre try to normalize his far-right views."
---
Migrant Workers Awarded Damages in Landmark Decision
"In a landmark decision, a human rights tribunal in Ontario has ordered police to pay out thousands of dollars in damages in Canada's first legal case examining allegations of discrimination and racial profiling of migrant farmworkers ... During hearings, the Human Rights Tribunal of Ontario (HRTO) learned that Ontario Provincial Police planned to take DNA samples from dozens of migrant workers before interviewing the victim of the crime; coordinated with bosses to carry out the DNA canvas; kept the biological data from the samples on file after the investigation was closed, and even visited a bank where workers kept their accounts."
---
Officials Warned Canada's Pro-Israel Voting Record Not Based on 'Merit': Report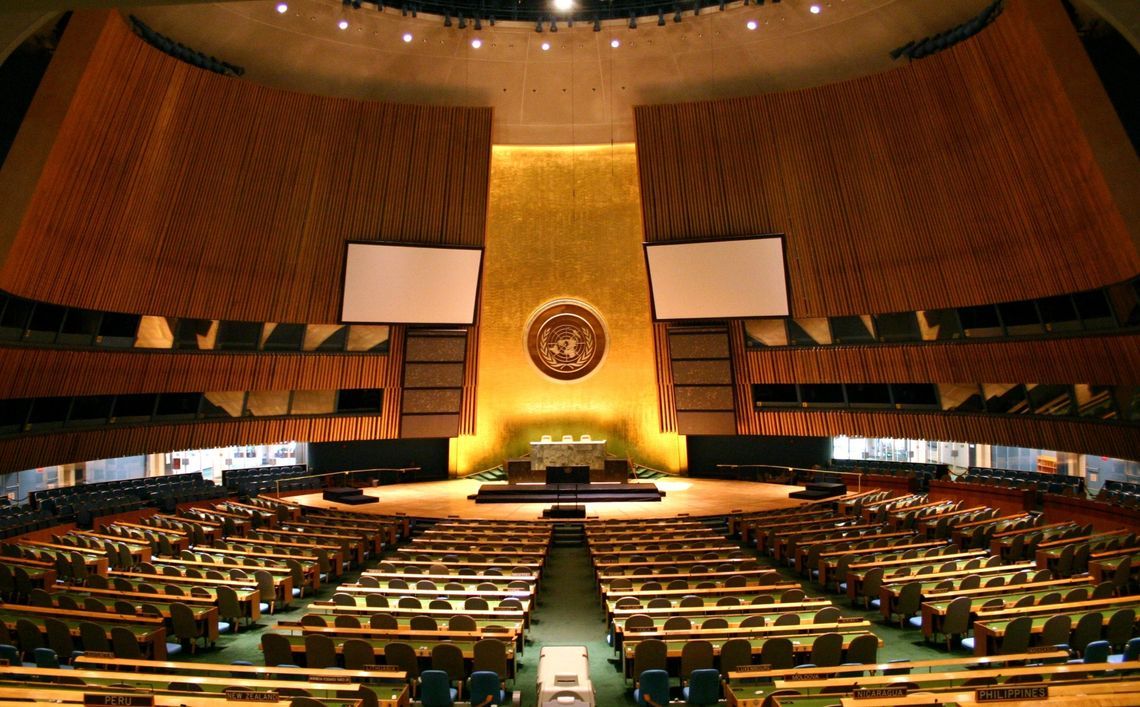 From The Maple
In the lead up to a key 2019 United Nations vote, Canadian government officials argued that Canada's pro-Israel voting record is not based on "specific merits" and that maintaining this approach would harm Canada's reputation on the world stage, according to a new report published last week by the advocacy group Canadians for Justice and Peace in the Middle East (CJPME).
---
$706 million
Data of the day from The Canadian Press: "British Columbia's financial outlook is showing improvements, with a budget surplus of $706 million forecast for the current fiscal year."
---
Other News
The Green Party's two MPs were both prepared to walk away from their party and sit as independents if the federal council cancelled the party's leadership race, CBC News reports.
The federal government recently said 86 per cent of flights at Canada's four biggest airports departed on time during the week of Aug. 22 to 28, but industry experts say the government is using an unheard-of definition of "on time" to exaggerate the improvements, The Globe and Mail reports.
More than a year after the Great Resignation took hold in the United States, Canada is grappling with its own greyer version: The Great Retirement, according to data from Statistics Canada reported by Reuters.
---
Catch up on our latest content
Get all the latest posts delivered straight to your inbox.
Processing your application
Please check your inbox and click the link to confirm your subscription.
There was an error sending the email