Written by Alex Cosh
On this week's episode of The Maple's North Untapped podcast, we spoke to labour researcher Adam D.K. King about the standoff between Ontario education workers and the Doug Ford government, which is by no means over.
Specifically, we discussed the long-term roots of the dispute, why Adam thinks CUPE was right to call off its strike in exchange for Ford promising to repeal Bill 28 (which included draconian use of the notwithstanding clause), and the lessons learned for future struggles.
Download the full episode on Apple, Spotify or Google.
As well, Adam and writer Abdul Malik discussed whether they thought CUPE made the right decision in a special dialogue article published by our friends at Passage yesterday. Adam makes his case in more detail for why he thinks CUPE made the right decision, and Abdul explains why he thinks the workers should have stayed off the job and seized the historic opportunity to fight for more concessions.
You can read the full piece here.

---
B.C. Columnist Pans Vancouver Police Report as 'Work of Fiction'
In a scathing opinion column, B.C.-based journalist Rob Shaw wrote this week:
"If you're looking to pick up a good work of fiction for your reading list these days, you might consider venturing into the world of fantasy as penned by the Vancouver Police Department. Its report, titled Vancouver's Social Safety Net: Rebuilding the Broken, takes the reader through a make-believe world, in which an anonymous author and an overzealous graphic artist weave together a tale of greed, incompetence and bureaucratic bungling in Vancouver and on the city's Downtown Eastside ... Too bad most of it is misleading nonsense."
---
$500 million
Data of the day from PressProgress: "British Columbia is subsidizing private education to the tune of half-a-billion dollars every year at a time when teachers say the province's public education system continues to face shortfalls."
---
How The Threat of a General Strike Forced Doug Ford to Blink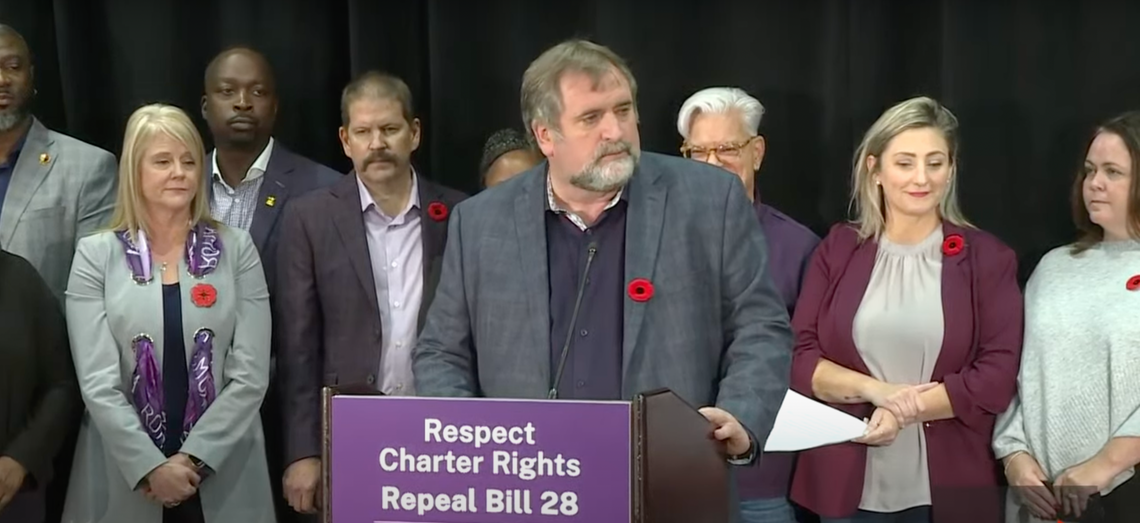 From The Maple
A union representing tens of thousands of education workers in Ontario called off planned strike actions on Monday in exchange for the Doug Ford government promising to rescind legislation that imposed a contract and made going on strike illegal.
---
Other News
Alberta Premier Danielle Smith is back in the legislature, winning a seat in a by-election more than seven years after she left, The Canadian Press reports. However, the NDP won 17 out of 26 polls in the city of Medicine Hat — where they spent the majority of their campaign.
Alberta's Opposition leader says Premier Smith consulting a medical adviser of former U.S. president Donald Trump on COVID-19 who calls vaccines "bioweapons" exacerbates worries she runs a government not guided by science, The Canadian Press reports.
The mayor of a southern Alberta village where a protest against COVID-19 restrictions closed traffic lanes to the United States last winter believed then-premier Jason Kenney was ignoring the severity of the situation, according to texts obtained by the Emergencies Act inquiry, CBC News reports.
---
Catch up on our latest stories
Get all the latest posts delivered straight to your inbox.
Processing your application
Please check your inbox and click the link to confirm your subscription.
There was an error sending the email