On September 3, Vancouver resident Jay Clover and their roommate received voting cards from Elections Canada that referred to the names they used before they gender-transitioned — an act known as deadnaming.
"Myself and my roommate both received the cards in our shared mailbox with our landlord," Clover told The Maple. "So (the landlord) saw them and because of that, now he knows that we're both trans."
"I'm less concerned about him personally," Clover continued. "But it is pretty scary, because we recently got out of a housing situation where that sort of information would have been used against us, and would have been more of an issue of harassment."
Deadnaming is hurtful and potentially dangerous to trans and gender non-conforming people. According to research published in the Journal of Adolescent Health in 2018, correct name-use for trans and gender non-conforming youth reduces the risk of depression, suicidal ideation and suicidal behaviour — tendencies that trans and gender non-conforming youth are generally at high risk of experiencing.
A similar problem to the one experienced by Clover was reported by CBC News last week, prompting an apology from Elections Canada.
In a statement to The Maple, Elections Canada spokesperson Diane Benson said: "We regret that an elector had this experience and we apologize. We understand that some groups of electors, including transgender electors, face challenges with identification requirements when voting."
"We try to keep the National Register of Electors as up to date as possible and appreciate electors who take the time to contact us to change their information online or through the local returning office," Benson's statement continued. "We get our information through a number of data sources. Before an election, we do manual comparisons when differences are detected to try and ensure that names and genders are as up to date as possible."
"Sometimes, however, a previous name shows and a voter information card is mailed under that name."
The Elections Canada website states: "If an update is required to your name, you must make the change in person at your Elections Canada office. You can also update your voter information at your assigned polling station before you vote."
Clover said the first thing they did after receiving their voting card was reach out to other trans people to see if this was an issue that others were experiencing, but at that time most had not yet received their cards.
"After that, I did contact Elections Canada," said Clover. "And I had to essentially re-register and use my new name (and) legal gender marker."
Clover said that for them, the process of correcting Election Canada's information was relatively simple, because Clover had an updated birth certificate, and a name-change document that shows both their previous name and their new name.
"Emotionally, though, it's not a pleasant experience to go on a phone call with several different people and out myself," Clover explained. "Dead names can be a really tricky thing for trans people. Essentially, after a legal name change, you really just want to leave that behind. So, having to repeatedly tell people, it's not an easy process emotionally."
"I think it also speaks to a lack of privacy for trans people that cis (gender) people are otherwise granted in this sort of context," Clover added.
Clover said the same thing happened to them in the 2019 federal election. "Last election, I didn't have my documentation and that sort of stuff — it takes time to order, it costs money. So I just kind of had to go in (to their local polling station) and explain my situation," said Clover.
Clover said some of the staff at the polling station in 2019 did not seem to know what to do in order to correct the issue. "So I'm standing like, outing myself to people repeatedly with strangers around me," Clover explained. "And then getting it again this year was just a lot of dread associated with it."
Fortunately, Clover added, Elections Canada staff were more helpful this time around. "The person that I spoke to at the local elections office was, thankfully, really good. I gave the updated name. And she put that in nicely."
Clover said the timing of the snap election may have potentially complicated the problem for other trans voters.
"For a lot of people, there's just no time to update this documentation, if you don't already have it, if you need to order it," Clover explained. "If you aren't in the position that I was in to be able to change things fairly easily, it's a huge deterrent for trans people."
More broadly, Clover explained, the experience highlights the deeper systemic injustices that trans people continue to face.
"Outside of it being upsetting and scary on a personal level, it is much more than that," said Clover. "It's an issue of safety for trans people on a systemic level, in things like housing, and employment — all of these issues that trans people struggle with."
---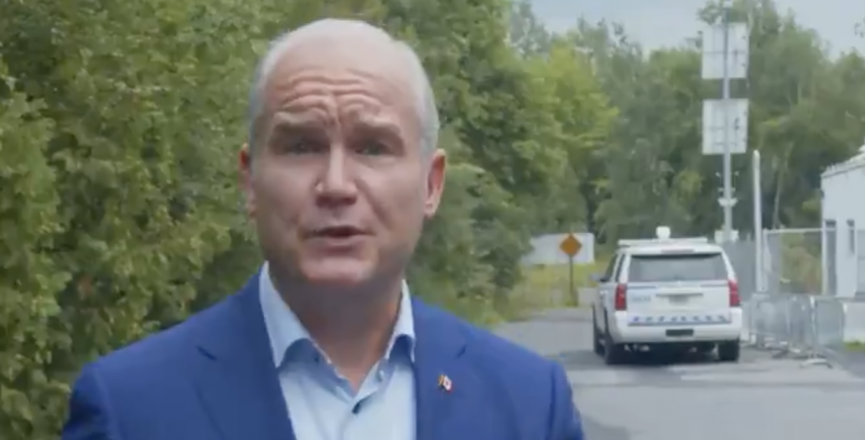 Election News
---
Other News
The Canadian Press reports that British Columbia's NDP government has not effectively overseen the safety of the 1,900 dams it regulates, according to the province's auditor general.
The Lheidli T'enneh First Nation is asking the federal and B.C. governments to order pipelines operated by Enbridge to be re-directed off its land ahead of the three-year anniversary of an explosion, CTV reports.
---
The Latest Polls
---
WATCH: After an interview with Global BC's Neetu Garcha on reconciliation, housing, Quebec's Bill 21, feminism and Afghanistan on Monday, Liberal Party Leader Justin Trudeau complained that he didn't get to the chance speak about the pandemic and climate change. In response, Garcha said reconciliation has been a top concern among voters, and that Trudeau has denied her colleagues' interview requests covering a range of topics during the election campaign.
WATCH: The English-language leaders' debate last week included a segment on reconciliation for the first time ever. That portion of the debate featured a question from 18-year-old Marek McLeod, who asked party leaders how he could trust the federal government after 150 years of abuse against Indigenous peoples, and what the parties would do to rebuild trust. APTN News sat down with McLeod for more.
---
The Maple Pod
Don't miss the latest episodes of The Maple's election podcast series. Subscribe now on Apple, Spotify, Google and SoundCloud.
---
Commentary
In Ricochet, columnist Katsi'tsakwas Ellen Gabriel writes that Indigenous peoples who choose not to vote in federal elections should be respected, as voting in a colonial system comes at a cost to Indigenous sovereignty. "If I knew my vote would help this generation and the future, perhaps I would change my mind," writes Gabriel. "Until then, I will watch and observe, advocate, treasure my Kanien'kehá:ka citizenship and demand that my right to not vote be respected as well.
In a special to The Globe and Mail, former Liberal cabinet minister and outgoing independent MP for Vancouver-Granville Jody Wilson-Raybould writes that when it comes to Indigenous reconciliation, the Liberals have not kept their promises.
For The Breach, Meenakshi Mannoe examines whether politicians are brave enough to imagine a society without police violence, arguing that, at best, the federal party platforms "play it safe" by emphasizing reform rather than defunding the police. "While the Conservative platform retains its hallmark "law and order" deference to police, the Liberals, NDP and Greens make overtures to reform, emphasizing civilian oversight as an important fix," writes Mannoe. "Oversight and reform, however, will not end the systemic issues plaguing police forces."
---
Catch Up Our Latest Newsletters
Get all the latest posts delivered straight to your inbox.
Processing your application
Please check your inbox and click the link to confirm your subscription.
There was an error sending the email