Early in the election campaign, The Maple spoke with climate justice advocates from Dogwood B.C. and Greenpeace about the Liberal Party's climate record in the context of Justin Trudeau announcing a promise to train 1,000 new firefighters to combat wildfires.
Both advocates agreed that Trudeau has so far failed to adequately address climate change, pointing to the Liberal government's $4.5 billion purchase of the Trans Mountain pipeline in 2018, its ongoing multi-billion dollar subsidies to the oil and gas sector, and Canada's record as the only G7 country to see emissions rise during Trudeau's tenure.
Since then, the Liberal Party has unveiled its new climate platform, winning an endorsement from former B.C. Green Party leader and climate scientist Andrew Weaver, and hailed by Simon Fraser University's Mark Jaccard, an energy economist, as being the most cost-effective of the major party platforms.
The platform promises to cut climate-altering emissions by 40 to 45 per cent reduction below 2005 levels by 2030, a target set by the Liberal government earlier this year.
Key measures the Liberals propose to achieve that target include hiking the federal carbon tax to $170 per tonne by 2030, capping emissions from Canada's oil and gas sector (with a promise to make the sector reach net zero by 2050) and banning thermal coal exports over the next nine years.
The platform also promises to "accelerate (Canada's) G20 commitment to eliminate fossil fuel subsidies from 2025 to 2023," but does not provide specifics.
Kai Nagata with Dogwood B.C. told The Maple that he has heard very little pushback against the Liberals' platform from the oil and gas industry — and said that fact speaks volumes.
"Any credible climate plan in 2021 should have oil executives swinging from the rafters hooting like howler monkeys," said Nagata. "We've seen nothing, no dark money campaigns to unseat the incumbents, no fear mongering emails from the oil lobby."
"The fact that they are silent on the major parties' plans tells you everything you need to know about the appetite our political class has for upsetting the status quo," he added.
As for Weaver's support for the Liberal platform, Nagata said the former B.C. Green leader's political record speaks for itself. Nagata noted that Weaver led the B.C. Green Party when it held the balance of power in the B.C. legislature between 2017 and 2020, propping up the B.C. NDP minority government.
"You're talking about the guy who had probably more leverage than any other individual in the history of British Columbia to take things in a different direction on climate, and sat on his hands," said Nagata. "The government doubled fossil fuel subsidies and approved a massive new package of incentives for fossil fuel expansion."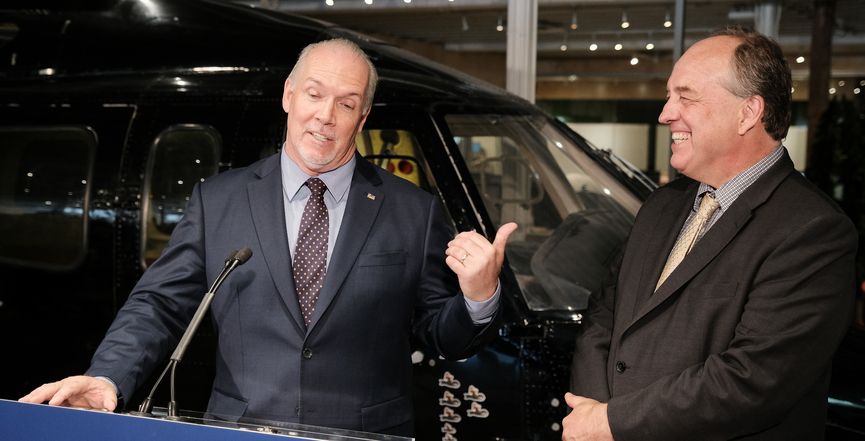 As well, Nagata noted, despite the B.C. NDP giving the greenlight to the liquefied-natural gas project in Kitimat with a suite of generous tax breaks in 2019 that Weaver called a "generational sellout," the former B.C. Green leader endorsed the New Democrats during the 2020 provincial election.
As for Jaccard's emphasis on the cost-effectiveness of the federal parties' climate platforms, Nagata said: "I think not doing anything on climate will be very expensive indeed."
"If you're going to try to use that math to evaluate a climate plan, then you also have to include the other side of the equation, which is the cost of maintaining the status quo," Nagata added.
"The less disruption to the fossil fuel industry today, the higher the costs are in human lives in trauma and displacement, in untold ecosystem damage and animal die offs, and, ultimately, things that will show up on insurance companies' balance sheets and on government budgets."
In terms of policy specifics, Nagata said the Liberals' emphasis on achieving its emission reduction targets through the carbon tax has "consumed the debate around climate and climate policy for many years."
"In the meantime, emissions have gone up," Nagata noted. "So as a policy tool, I think that it has been of questionable impact in the real world."
Meanwhile, Nagata said, the federal Greens are out of the running in this election while the federal NDP's central campaign machinery is leaving climate "maverick" candidates hanging, and failing to provide the support those candidates need to win in close races.
"They're forcing those local candidates to try to use their own personal relationships and charisma to reassure volunteers and voters in their ridings that they will push the party on this issue if elected, knowing that the centre of gravity within the NDP is still solidly controlled by (Alberta NDP Leader) Rachel Notley, John Horgan and this sort of faction of professional campaigners who took the party over a number of years ago," said Nagata.
"I think that voters and grassroots volunteers are becoming impatient," he added.
Liberal Plan 'Potentially Promising,' But Light On Key Details
Alex Speers-Roesch, head of oil campaigns at Greenpeace, told The Maple that he's pleased to see the major parties are at least treating the climate emergency as a top issue this election, noting it was a core topic of discussion during the leaders' debates.
"That said, I still think that all of the parties have different shortcomings when it comes to climate," Speers-Roesch added.
Speers-Roesch said the Liberal Party's climate platform is "potentially promising," but that it is light on details, particularly on the pledge to cap emissions in the oil and gas sector.
If the Liberals followed through on their commitments, however, Speers-Roesch said parts of the platform could address some of his most serious concerns about the party's climate record to date.
"But I think critical questions that I still have that they haven't really clarified would be: will they set a strong cap and rapidly falling caps that are really consistent with a 1.5 degree (global temperature increase) carbon budget?," he added.
As well, Speers-Roesch explained, there is a risk that loopholes could be created through offsets or other means that might allow emissions in the oil and gas sector to remain high. In addition, he said, it is unclear whether the Liberals are taking into account downstream emissions — emissions that are released after a hydro-carbon product has left a company or government's control.
Speers-Roesch said he supports the federal carbon tax and plans to raise it, but that the measure shouldn't be seen as the "be all and end all" of climate policy. Further, he said modelling has suggested the Liberals' plan might achieve a 40 per cent reduction in emissions, but that a much bigger cut is needed, which in turn would require much more than just a carbon-pricing program.
"We need to be going well beyond what the (Intergovernmental Panel on Climate Change) has said what the global average should be, which is 45 per cent," said Speers-Roesch. "Civil society groups have said that 60 per cent is a good fair share in terms of domestic emissions reductions."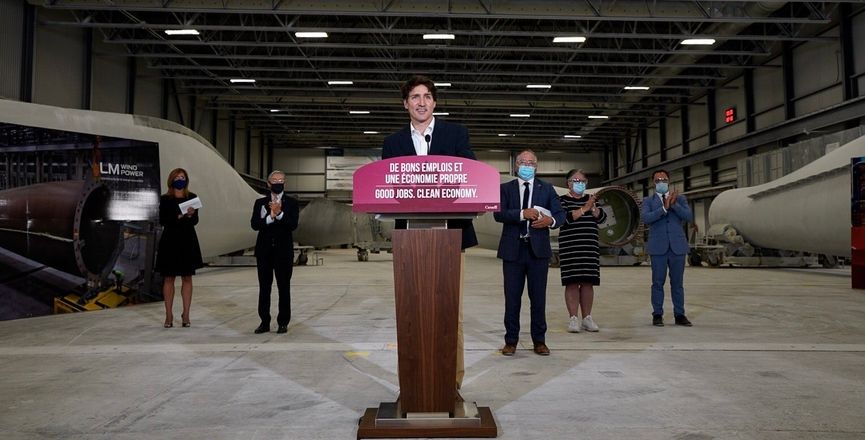 In terms of the high-profile endorsements the Liberals' plan has received, Speers-Roesch noted that the governing party has had the federal bureaucracy at its fingertips for the past six years, so it is not surprising that the Liberal plan and costing is more detailed than those of the other parties.
Speers-Roesch believes Mark Jaccard's focus on the "sincerity" of the parties' plans to meet their differing emissions-reductions targets — rather than the targets themselves — is particularly problematic.
"I think Jaccard focuses too much on this question of 'do the policies hit the target?' and not enough on 'is this a sensible target?,'" said Speers-Roesch.
As well, Jaccard's model presents GDP losses caused by the parties' climate plans as actual losses, rather than as losses relative to other hypothetical scenarios, Speers-Roesch noted. Other modelling, he said, has shown that even with a hypothetical 60 per cent reduction in emissions, the Canadian economy would still grow by 19 per cent between now and 2030.
Even with that consideration, however, Speers-Roesch said "GDP is a very flawed measure of economic performance," adding: "There can be good things that lower GDP and there can be bad things that raise GDP." He noted that in 2014, Kinder Morgan was widely panned for claiming that an oil spill from the Trans Mountain pipeline would contribute to GDP increases.
"If we are achieving GDP growth in the short term through more oil spills, more pollution and more wealth accumulation among billionaires and the wealthy, I think that's GDP growth that is actually not helpful," Speers-Roesch explained. "Those important details don't come through in (Jaccard's) analysis."
Whatever the results on election day, Speers-Roesch said, the next government is "going to face tremendous pressure from the fossil fuel industry to water down policies, to not bring in new policies (and) to roll back existing policies."
"I think, to make sure that we get whatever government is elected following through on their promises, they're going to need to face even stronger public pressure from climate-concerned Canadians," he added.
---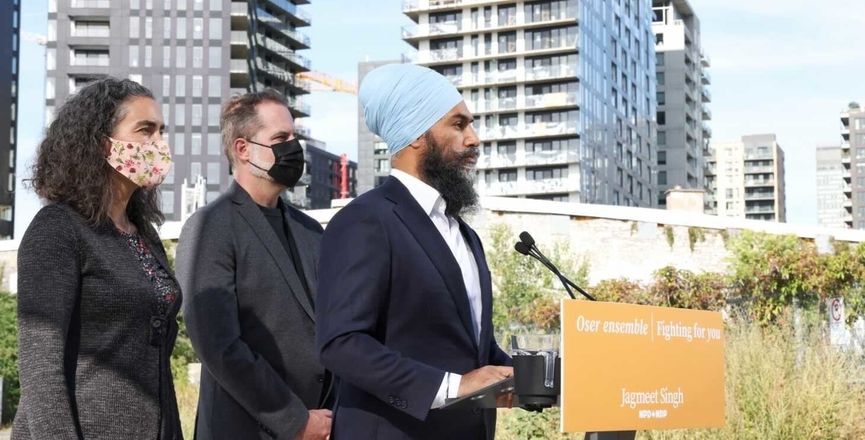 Election News
---
Other News
A Toronto hospital where mobs denouncing COVID-19 public health measures gathered Monday afternoon said such demonstrations are demoralizing for healthcare workers who have cared for patients infected with the virus despite the risk to themselves and their families, The Canadian Press reports.
Alberta union leaders say they have no intention of complying with new legal restrictions introduced by the province's United Conservative Party government, CBC reports. The so-called "Restoring Balance in Alberta's Workplaces Act" would require unions to ask members annually to opt into paying dues toward political or charitable causes, and other functions the Conservative government believes are non-essential.
Alberta's United Conservative Party is being accused of politicizing COVID-19 vaccine passports, after launching a feedback survey on the subject that also asks respondents for political donations, CBC reports.
---
The Latest Polls
---
LISTEN: Alberta's Progress Report hosts Adora Nwofor, the president of Black Lives Matter YYC, to discuss the case of Dalia Kafi's brutal and violent encounter with Constable Alex Dunn of the Calgary Police Service in 2017, the aftermath and what's being done to get justice for Dalia.
---
WATCH: Dr. Shajan Ahmed, an emergency physician at a hospital targeted by mobs demonstrating against COVID-19 restrictions and vaccine mandates, told CBC News the "reprehensible" and "cowardly" protests outside hospitals are "another added blow to a difficult situation." Dr. Ahmed said he is concerned for the safety of his colleagues, and that governments need to be doing more to clamp down on those who are harassing health workers, while applauding calls from some federal party leaders to criminalize such behaviour.
---
The Maple Pod
Don't miss the latest episodes of The Maple's election podcast series. Subscribe now on Apple, Spotify, Google and SoundCloud.
---
Commentary
Ricochet columnist Aaron Saad argues that the Liberal and Conservative parties' climate policies signal to their bases that the issue isn't urgent in any meaningful way. "The ideologies of both the Liberal and Conservative parties forbid the transformative policies now needed," writes Saad.
For Canadian Dimension, John Jenkinson writes that the time is ripe for Canadian craft brewery workers to unionize, noting that doing so could provide new opportunities for negotiating dignity, safety and justice for workers in the industry countrywide.
For The Tyee, Katherine Steinhoff examines each of the federal parties' pledges for addressing Canada's illicit drug poisoning crisis, writing: "The overdose crisis wasn't really a big issue for any of the parties during the last session. At this point, I'm wondering what it's going to take." Read The Maple's coverage of this issue here.
---
Catch Up On Our Latest Newsletters
Get all the latest posts delivered straight to your inbox.
Processing your application
Please check your inbox and click the link to confirm your subscription.
There was an error sending the email