Disqualified B.C. NDP leadership hopeful Anjali Appadurai released a health care policy platform earlier this month that pledged to address privatization in the province's health care system by strengthening the public sector.
Health policy researchers hope Appadurai's proposals around addressing privatization, focusing on the social determinants of health and engaging communities in the provision of health care will be taken seriously by David Eby, who will be the next premier after assuming the B.C. NDP leadership by default.
The platform, titled "Healthy People, Healthy Communities," was part of Appadurai's "New Deal for B.C.," a set of interdependent platforms addressing the health care system, the climate crisis, the economy and democracy. Only two of the four platforms were released before the B.C. NDP executive council voted to disqualify Appadurai.
Andrew Longhurst, a health policy researcher at Simon Fraser University, praised the platform for demonstrating a sophisticated understanding of the research that's been done into the challenges facing the healthcare system.
"What I really liked about Appadurai's policy proposals was the focus on addressing the shortage and challenges around access to primary care, which is driving people out of necessity to platforms like TELUS and other virtual walk-in clinics which don't provide an ongoing relationship with a care provider or a care team," he told The Maple.
A recent survey found that nearly 60 per cent of British Columbians either have difficulty accessing their family physician or don't have one at all.
Appadurai was disqualified from the B.C. NDP leadership race last week following the recommendation of a report from the chief electoral officer overseeing the leadership contest and an investigation into allegations of wrongdoing by Appadurai's campaign. The decision to disqualify Appadurai has been heavily criticized by some party members as being born out of a "pervasive culture of cheating," The Breach reported.
She was the only potential challenger to Eby, who is expected to be sworn-in as leader of the B.C. NDP and premier in the coming weeks.
Eby did not release a platform detailing his plans for the health care sector. In a speech outlining his plan for his first 100 days in power, Eby pledged to tackle the "profound barriers" facing health sector workers, with a particular focus on hiring more professionals from abroad.
Eby has also described a need for systemic change involving consultations with healthcare workers and other stakeholders, as well as incentivizing and supporting family doctors to take on extra tasks.
In an interview with The Maple before her disqualification, Appadurai reiterated the importance of taking a "whole-systems" approach to health care "by recognizing that the health of the individual is intimately linked to the health of the community."
"It will require investment to make our public system more robust and resilient in the face of privatization," said Appadurai.
The platform focused on the crisis in primary care, workers' rights and the "social determinants of health," factors that are typically seen as being separate from healthcare concerns. These social-determinant factors include where people live and work, their social connections, and the quality of air and water in their environment.
In order to address these factors, Appadurai's plan acknowledged the importance of addressing poverty, the housing crisis, climate change and systemic racism.
Boosting Community Health Centres
Central to Appadurai's plan to address the crisis in primary care was investments in Community Health Centres (CHCs) and First Nations Health Centres (FNHCs). These are run by cooperatives and not-for-profit organizations, and offer a team-based model of care that aims to bring both healthcare services and social services under one roof.
Along with physicians and nurse practitioners, CHCs may also employ dentists, pharmacists, social workers, counsellors, income support workers, housing support workers and interpreters.
Longhurst said the CHC model recognizes that health care needs are often complex, requiring ongoing support from health and social services professionals.
"They know your history; they have your electronic medical records in front of them," Longhurst explained. "You have an ongoing relationship with care, which we know is really important in helping identify, diagnose and prevent diseases, and helping work with people to manage chronic conditions."
Appadurai stressed the importance of community governance and involving patients from the community on CHCs' boards of directors. She believes these measures would allow centres to be more responsive to their communities and offer culturally appropriate services and programming.
"Every community health centre would look a little different based on the needs of the patients that they're serving," said Appadurai.
In order to quickly scale up the number of CHCs, Appadurai's platform proposed utilizing the existing infrastructure of Urgent and Primary Care Centres (UPCCs), introduced by the B.C. NDP in 2018, and transitioning those spaces into Community Health Centres.
Longhurst said this is "precisely what needs to happen" in B.C., pointing to new data on staffing levels in UPCCs showing that many centres are operating with only half of the staff members they are approved for.
"Not all of these issues will miraculously disappear with Community Health Centres, but I think there is a reflection from physicians working in UPCCs that they're not necessarily the attractive workplaces that they've been made out to be," said Longhurst.
Although a handful of Community Health Centres were opened in B.C. in the late 1960s and early 1970s, the province now lags behind other provinces in the number of centres available. In Ontario, over half a million people are served by 75 CHCs across the province.
According to Longhurst, the B.C. government's support for these kinds of centres has waned over the past two decades.
"There's no funding model like in Ontario that would allow them to exist in a much more robust way to fully realize all the benefits of a community health centre model," he explained.
Appadurai's plan involved implementing a global funding model similar to the one used in Ontario, in which doctors are paid a salary rather than the fee-for-service model common in family physicians' offices in B.C.
Under the fee-for-service arrangement, physicians address one ailment per patient visit and then bill the government health insurance plan. Because physician compensation is tied to the number of procedures performed, doctors are incentivized to take on a high volume of patients.
Efforts to shift to alternative forms of physician compensation have received pushback from groups like Doctors of BC, which has argued that global funding models would take away doctors' autonomy and reduce their power in the medical system.
"​​That continued refusal to modernize physician compensation to allow for the expansion of team-based nonprofit models of care is to the detriment of patients, because we are seeing primary care collapsing in this province," said Longhurst.
However, Longhurst added that with increased administrative load, growing patient waitlists and the stress of the pandemic, many younger doctors are interested in alternative funding models. Research from B.C. shows that 71 per cent of new family practice graduates surveyed preferred progressive models of payment over fee-for-service.
Appadurai's policy proposal would allow for doctors to choose if they want to keep using fee-for-service or move to an alternative funding model.
Support Promised for Health Care Workers
In an effort to improve service in hospitals and long-term care homes, Appadurai's plan pledged to improve pay, working conditions and protections for workers in the sector, including a 25 per cent pay raise for registered nurses.
Appadurai praised the government's 2020 initiative to top up wages for seniors care workers. She said it's now time for similar measures to be implemented in acute care.
A survey from the Hospital Employees' Union in March showed that one in three health care workers want to leave the sector, with 75 per cent of workers surveyed experiencing pandemic-related burnout.
Nurses in B.C. are turning to work in private staffing agencies that send nurses to understaffed hospitals. Private agency nurses can make 50 to 100 per cent more pay than their public counterparts, and often enjoy benefits like living expenses and meals covered.
Appadurai said she sympathizes with nurses who are considering leaving the sector.
"If I were a nurse who had just gone through the pandemic and was burnt out and traumatized from everything from the past two years, I would certainly be tempted by that offer as well," said Appadurai.
Health care workers across the sector have been in contract negotiations with the government this year, with members hoping to secure wage increases, cost-of-living adjustments and workload protections.
Farinaz Havaei, a health systems researcher who specializes in workplace health and safety in acute and long-term care, said surveys from before the pandemic showed that salary increases could help to keep nurses working in the public system.
"We do have research evidence that shows that financial compensation or a salary increase would actually be appealing to nurses and it would help slow down their rate of turnover," Havaei told The Maple.
However, she cautions that pay isn't the only reason nurses and other health care workers are leaving the sector. According to Havaei, the research is clear that working conditions like staffing levels and workload management are the biggest predictors of burnout and job dissatisfaction.
"If we can essentially prevent some of those more direct predictors of turnover like PTSD, burnout, job dissatisfaction, then we would be able to prevent turnover," she explained.
Havaei's research has found nurses' mental health worsened during the pandemic, especially among younger nurses and those working full-time. Many reported being forced to work overtime without mandatory rest periods or gaps between shifts due to staffing shortages.
In the short-term, Havaei recommends changes to workplace regimes that streamline patient assessments, engage nurses in decision making and encourage a healthier work-life balance. In the long-term, she urges policy makers to make systemic changes that take the onus off of individual workers to fix a crisis that has been building for years.
"It's best that we advocate for viewing this as a systems issue and take on more of a root cause perspective or a root cause solution to address these issues," she said.
For Longhurst, the recruitment and retention crisis among health care workers is an opportunity to re-evaluate how B.C. is managing the pandemic.
"If we want to address the health human resources crisis in B.C., we also really need to take a look at how our management of the pandemic in B.C. is contributing to the loss of health care workers," said Longhurst.
Hospitals across the province have been reducing service and temporarily closing emergency rooms due to staffing shortages, with rural areas in the Interior and on Vancouver Island bearing the brunt of the strain.
In January 2022, provincial health officer Dr. Bonnie Henry stated that she wants to "get out of the [public health] order business." The provincial government lifted mask and vaccine mandates in March and April 2022 respectively, and no longer offers financial support to workers who need to isolate because of COVID infection.
Experts have raised concerns that both COVID spread and COVID deaths are vastly underreported in the province.
Appadurai's platform committed to re-introducing COVID protections, such as masking requirements or indoor gathering limits, that are based on "real-time data on the spread of the virus."
"It was very important to acknowledge that the pandemic isn't over and that our public health response has to become a lot more public," said Appadurai.
Longhurst said population-level COVID protections have been "sorely missing" from the current government's pandemic response. He said policies to address this could help with the stress that frontline healthcare workers have been under for almost three years.
"The pay is not terrible. It may not necessarily reflect the cost of living in this province anymore, but when you add that up with the kind of moral distress that you have to face every day at work, people are making informed decisions and choosing to leave," said Longhurst.
Havaei noted that research papers from the early 2010s warned of an impending nursing shortage. She said that while the pandemic has worsened working conditions in health care, the issue of poor recruitment and retention, and the negative impacts that issue has for patients, has been building for years.
"If you look at the literature, staffing shortages, staffing inadequacies, work overload – these are well documented issues within healthcare and within the nursing literature even prior to the pandemic," said Havaei.
Appadurai said she hopes the ideas outlined in her policy platforms will live on past the leadership race and be understood by the next leader of the province.
"These are ideas that are transformative and imaginative and are also being called for currently by communities," she said. "So we're not reinventing the wheel with any of these things; we've simply identified where people have already pointed out what can be done."
Emma Arkell (she/her) is a multimedia journalist based in Vancouver. Her work focuses on labour, social movements and cities, and can be found in PressProgress, Briarpatch and elsewhere.
---
Go deeper
Here are a few stories from our archive that expand on today's story
B.C. NDP members — including a former paid NDP campaigner — expressed concerns about the party's "McCarthy-esque" vetting tactics in the leadership race.
The B.C. NDP's provincial executive council voted to disqualify Anjali Appadurai from the party's leadership race, against strong objections from party members and elected NDP representatives across the province and country who called on the party to let her run.
---
Top Maple story this week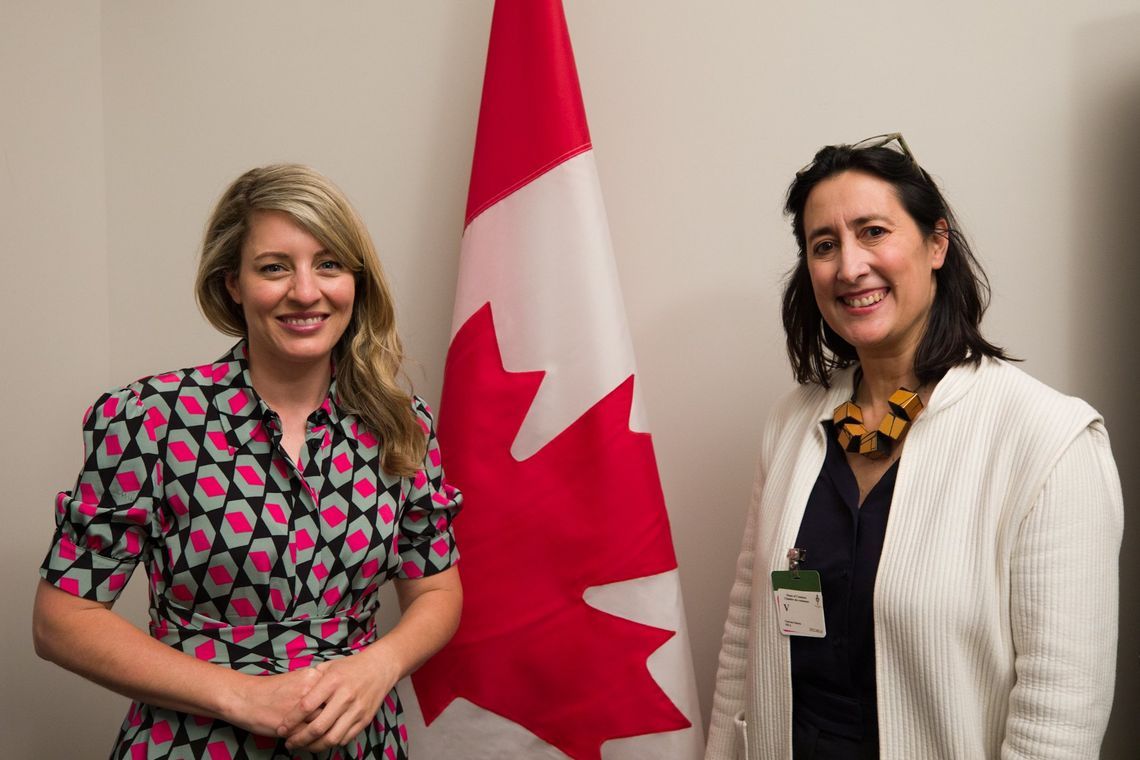 A briefing note obtained by The Maple confirms that Canadian government funding quietly propped up an astroturf group led by a member of Venezuela's self-appointed "interim government," which is now reported to be on the verge of collapse.
---
Catch up on our latest stories
Get all the latest posts delivered straight to your inbox.
Processing your application
Please check your inbox and click the link to confirm your subscription.
There was an error sending the email