Justin Trudeau's Cabinet Has a Disproportionate Number of Former Corporate Executives
Nearly one-third of Justin Trudeau's cabinet ministers previously worked as corporate executives or in other roles linked to business interests before entering Parliament.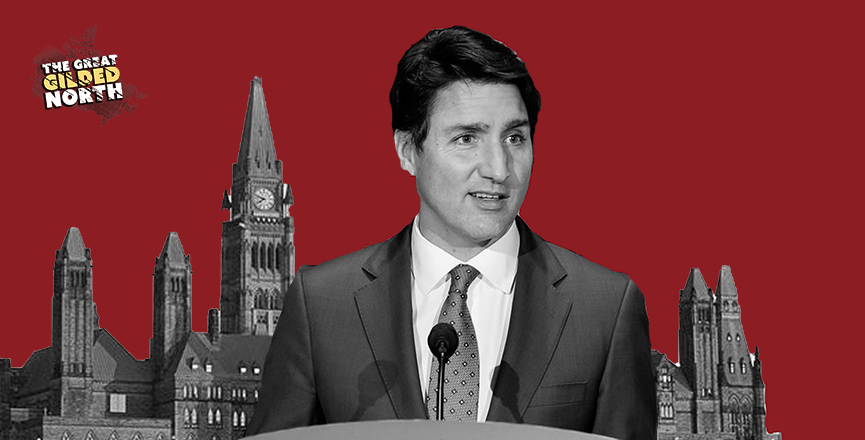 By Alex Cosh
Nearly one-third of Justin Trudeau's cabinet ministers previously worked as corporate executives or in other roles linked to business interests before entering Parliament, new analysis by The Maple has found.
Of Trudeau's 38 cabinet ministers, eight served directly as corporate executives or business managers. By comparison, data from Statistics Canada shows that 111,072 professionals, or 0.7 per cent of the aggregate industrial workforce, worked in "management of companies and enterprises" in 2020.
An additional four cabinet members held non-executive roles with close connections to business interests in the legal, consulting and asset management sectors.
Alex Hemingway is a senior economist with the Canadian Centre for Policy Alternatives whose research has examined how the class backgrounds of legislators in advanced democracies affect policy. He told The Maple that Canada's government is not alone in being led by a disproportionate number of professionals with business backgrounds.
"One of the most consistent findings, going back decades in the research literature, is that working-class people are massively underrepresented in parliaments around the world," said Hemingway.
Research in Canada and Europe, Hemingway explained, has shown that lawmakers in advanced democracies who come from business backgrounds tend to favour policies that worsen inequality and shrink government spending on social programs.
"That under-representation of workers in government appears to be systematically leading to lower levels of social spending than we would see if workers were represented in proportion to their share of the population," he noted.
Two members of Trudeau's cabinet were employed as healthcare workers before entering Parliament. National Revenue Minister Diane Lebouthillier was a social worker, and Seniors Minister Kamal Khera was a registered oncology nurse.
Meanwhile, other members of the Liberal government previously served in some of the highest echelons of corporate decision-making and executive power.
Executives and Managers at the Cabinet Table
Before being recruited to run for Trudeau's Liberals in 2013, Finance Minister Chrystia Freeland worked as managing director and editor of consumer news at Thomson Reuters.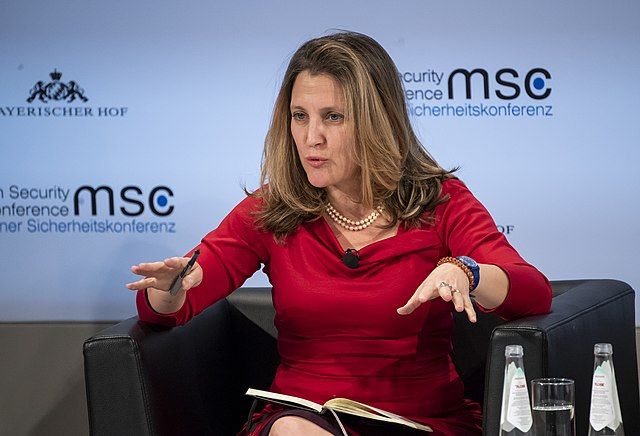 During her tenure as an executive for the company, Freeland reportedly played a leading role in the ill-fated "Reuters Next" project, firing existing employees to make room for her own candidates in the process, and ultimately managing a team of 60 employees plus additional consultants.
Another minister to come from a high-powered corporate background is Innovation Minister François-Philippe Champagne. Before entering Parliament in 2015, Champagne held executive positions at international engineering giant AMEC, and served as vice-chairman of Bionest, a waste-water treatment firm.
Other cabinet members hailing from corporate executive roles include Heritage Minister Pablo Rodriguez, who previously worked as a corporate lobbyist and as CEO of Ecolomondo Corp. Until 2015, Transport Minister Omar Alghabra served as president of Northern Compass Co., a business consulting firm.
Before his re-election as MP for Edmonton Centre in 2021, Tourism Minister Randy Boissonnault was self-employed as president of Xennex Inc., according to his LinkedIn page. Until her election to Parliament in 2015, Gudie Hutchings, minister of rural economic development, was general manager of Rifflin Hitch Lodge, a luxury wilderness resort in Labrador.
Foreign Affairs Minister Mélanie Joly worked as a management consultant before she was elected in 2015, and until 2013 served as a managing partner with Cohn & Wolfe, a communications agency.
Public Safety Minister Marco Mendicino was a partner at Ellis Mendicino LLP between 2013 and 2014, before working as a sole practitioner lawyer until his election to Parliament in 2015.
The Maple compiled information about each minister's professional background by examining cabinet profiles on the PMO website, LinkedIn pages and other biographical information disclosed in public records.
Among Trudeau's cabinet ministers who did not work directly in corporate executive and business managerial positions, some held jobs in professions that are closely associated with business interests.
For example, Crown-Indigenous Relations Minister Marc Miller worked as a corporate lawyer specializing in mergers and acquisitions at a multinational law firm. Similarly, Immigration Minister Sean Fraser was an associate at Blake, Cassels & Graydon LLP, also a multinational corporate law firm.
Before his election to Parliament in 2019, Environment Minister Steven Guilbeault worked as a strategic advisor at Cycle Capital Management Inc., a technology venture capital firm.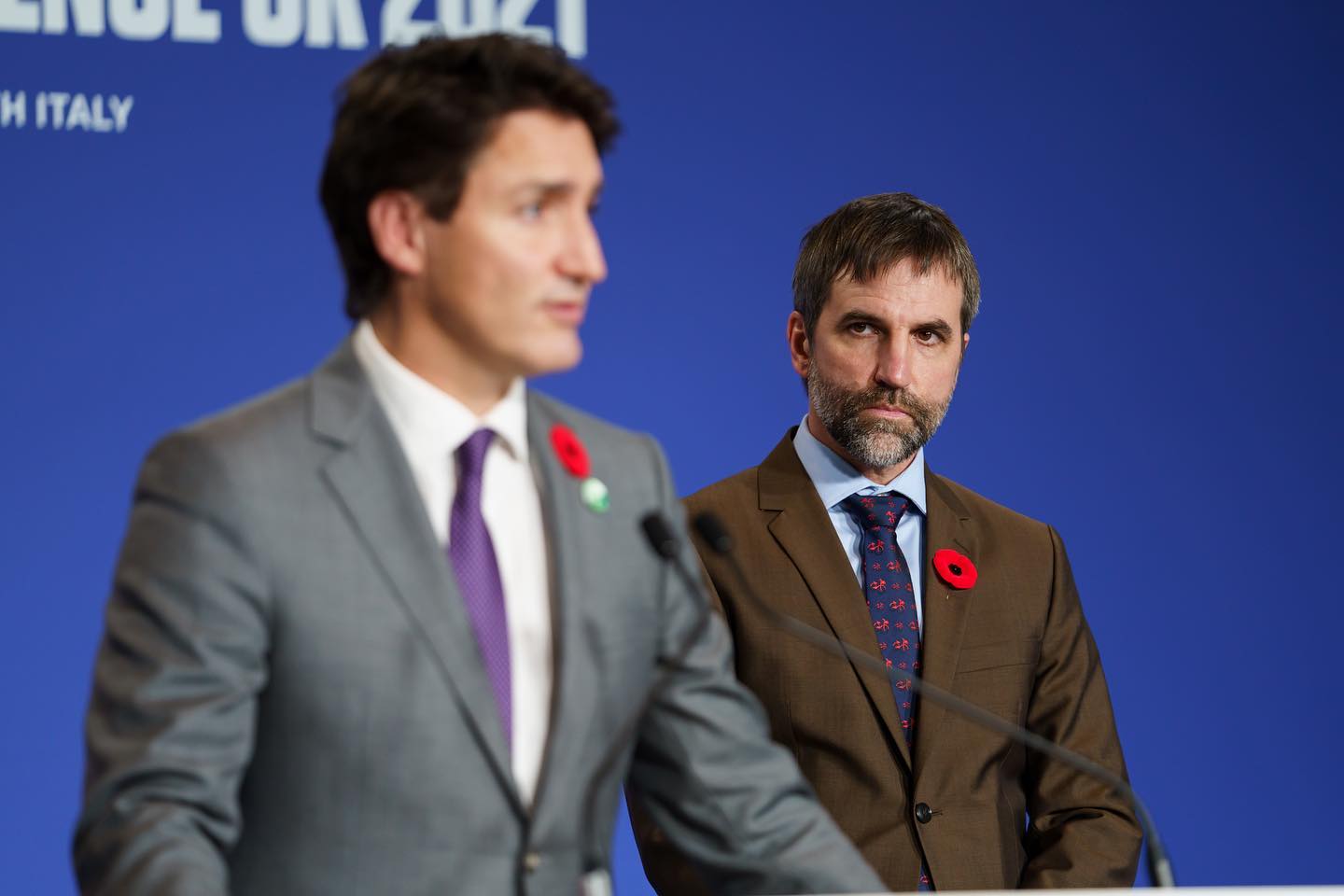 Minister of Families, Children and Social Development Karina Gould worked as an investment specialist for the Mexican Trade Commission in Canada and in various consulting roles until her election to Parliament in 2015.
It's not just Liberal parliamentarians who had previous jobs with close ties to the business sector, however. Before entering Parliament in 2008, interim Conservative Party leader Candice Bergen worked in the wealth management sector as an executive assistant.
After serving in the military, recently ousted Tory leader Erin O'Toole was a corporate lawyer on Bay Street.
Some Liberal cabinet ministers held prominent executive or leadership positions in the private, non-profit sector. Natural Resources Minister Jonathan Wilkinson, for example, was employed as an "executive in residence" at Foresight Cleantech Accelerator Centre, a green technology not-for-profit corporation.
For his part, Prime Minister Trudeau served as chairman of Katimavik, a charity established by his father, between 2002 and 2006.
Other cabinet ministers held plum roles at public institutions. In some cases, these positions paid salaries several times higher than the median annual income for Canadian families and unattached individuals, which was $62,900 in 2019.
Bill Blair, minister of emergency preparedness, served as chief of Toronto Police Services from 2005 to 2015, making $286,266 in his departing year, according to the Ontario Sunshine List. Until Nov. 2015, Minister of International Trade Mary Ng worked as executive director to the president's office at X University (formerly known as Ryerson), making $195,934 in her final year.
Before getting elected in 2015, Labour Minister Seamus O'Regan was employed as a "distinguished visiting innovator" at X University's RTA School of Media, a role in which he advised entrepreneurs and graduate students.
Health Minister Jean-Yves Duclos was head of economics at Laval University, where he is currently on extended leave. Similarly, Justice Minister David Lametti is on leave from his tenured position as a law professor at McGill, and Defence Minister Anita Anand is on leave from her position at the University of Toronto.
High-Paying Jobs Facilitate Running for Office
Daniel Westlake, a political studies professor at the University of Saskatchewan, told The Maple that high salaries and job flexibility – including being able to take extended leaves of absence – puts individuals in high-flying professions in a better position to run for office than those on lower-incomes working in more precarious jobs.
In 2018, a CCPA study found that racialized workers in Ontario are more likely to work in precarious and low-income jobs compared to white employees. In particular, racialized women were 25 per cent more likely to work in lower income jobs than white men.
Back in August, Radio-Canada reported that in the 2015 and 2019 federal elections, white men accounted for 52 per cent of all candidates despite making up only 36 per cent of the general population.
While there are strict limits on how much funding election candidates can contribute to their own campaigns, Westlake explained, running for office also requires sacrificing significant amounts of time.
"To run for office, you have to get nominated by a party, which means signing up members; it means making sure those members show up on nomination day, and then campaigning in and of itself, if you're in a competitive riding, can take an incredible amount of time," said Westlake.
"I think you need a certain degree of either work flexibility or financial security to be able to kind of step away from a large part of your day-to-day job to be able to run for office, and for individuals who are less financially secure or who make less money, that can be a more difficult thing to do," he added.
Westlake said it may be the case that some corporations and non-profits value individuals who get involved with politics, and so are willing to allow their high-ranking employees to step away from work to run for office.
"The other thing is if you have a large salary, taking a month away from work, that's less of an impact on you," he added.
The Liberals, said Westlake, tend to draw many of their votes from educated professionals in urban areas, and so it's not surprising that they would recruit many of their candidates from similar backgrounds. Working-class people, he noted, are not a significant part of the Liberal Party's voter base.
Polling by EKOS in 2021 found that 29 per cent of those who identified as working-class and 27 per cent of those who identified as poor supported the Liberals. On the other side of the class spectrum, 38 per cent of those who identified as middle class and 36 per cent of those who identified as upper class favoured Trudeau's party.
The NDP, Canada's traditional party of labour, had its highest levels of support among those who identified as poor and working class. A poll in 2017 found that 37 per cent of Canadians in general identified as working class.
"Most centre-left parties have a strong working-class, unionized vote base, and the Liberal Party doesn't and never did, and indeed was more of a centrist party, and I would argue has only recently become a centre-left party," said Westlake. "And even then, it's more of a centre-left party because it's progressive on social issues, not necessarily because it's this economic working-class party."
Westlake noted that the Liberal Party's flagship policy in its successful 2015 election campaign was a "middle-class tax cut."
A Slide Away from Working-Class Politics
Hemingway said that over the past few decades, traditionally left-leaning liberal and labour parties in advanced democracies have tended towards more centrist fiscal policies.
"It's an open question to what extent the changing class makeup of the politicians in those parties is a cause or a consequence of that trend, or both," he explained. "There are certainly big structural shifts in the balance of power between workers and capital that have helped push those parties in a more centrist policy direction."
According to the most recently available OECD data, Canada's social spending as a percentage of GDP is the lowest among G7 countries and did not grow significantly from 2015, when Trudeau first became prime minister, to 2018.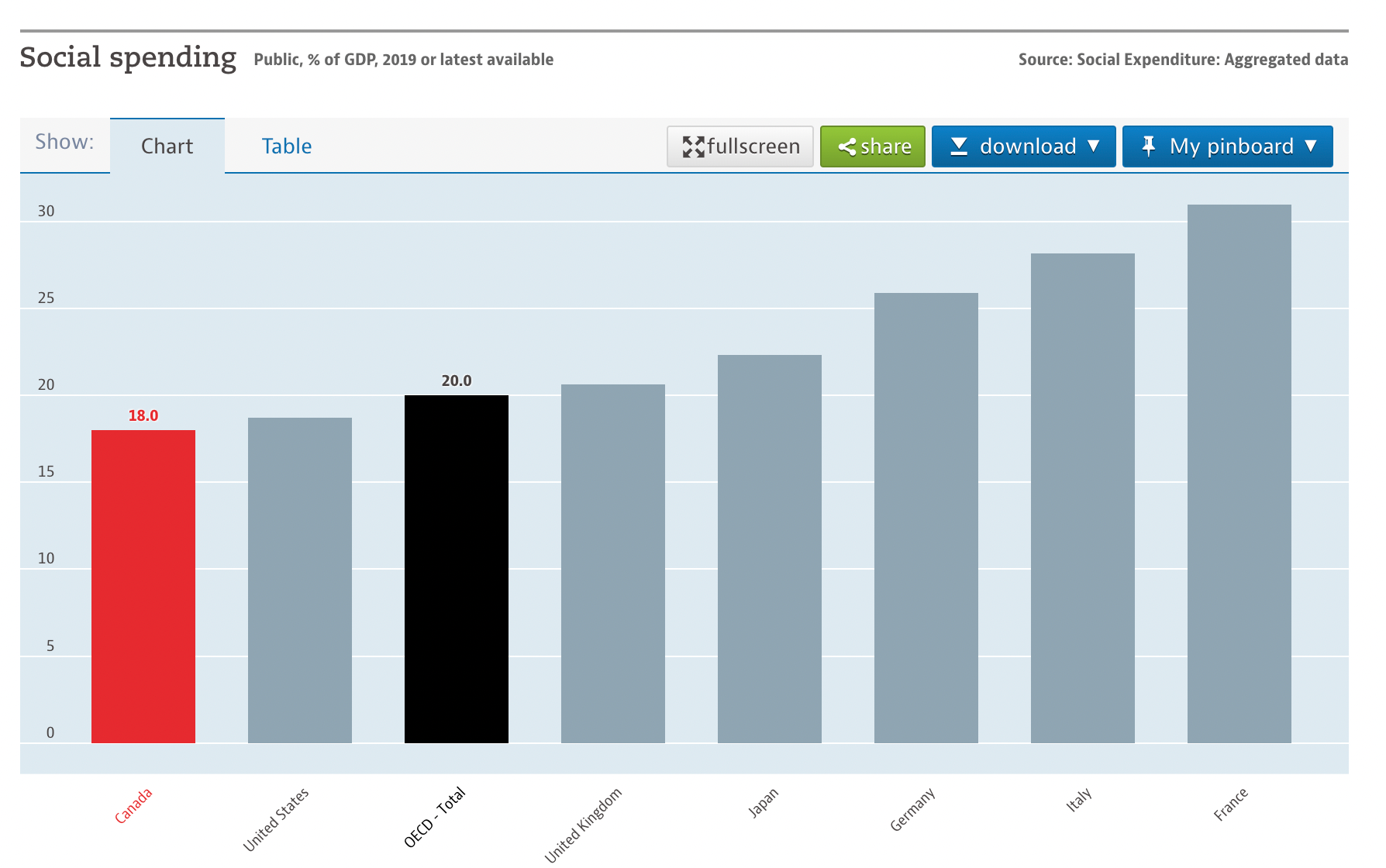 The Trudeau government has been credited for moving forward with some initiatives like $10-a-day childcare, but has also been criticized for failing to implement other key social programs, like universal, single-payer pharmacare.
Hemingway added that while the individual backgrounds of elected representatives matter, they are not the only class-related factor that influences how governments respond to key social problems.
"If you have a highly organized working class in a society, it's going to have the ability to pull and force politicians of all stripes towards its positions," said Hemingway. "Having workers in office can facilitate better representation of regular people in the society, but it can also be a reflection of the balance of forces."
The recent so-called "freedom" convoy-turned-occupation of Ottawa, which many said promoted an anti-worker and ableist agenda, has prompted calls for stronger working-class organizing to counter the convoy's far right-politics and to promote progressive policies that protect workers' interests.
In a recent episode of The Maple's North Untapped podcast, Humber College history professor Tyler Shipley said: "Working-class people have been thrown into the fire in the last two years during this pandemic ... There really should be a working-class mobilization against the Canadian state for a range of reasons, not the least of which is it's atrocious handling of a very dangerous pandemic, whose pain has fallen mostly on to the most marginalized people in Canada."
Shipley added, "For [the occupation] to claim that it's a working-class movement, even when it's fighting against measures that would protect working-class lives … is just ludicrous."
Professional Politicians?
Some members of Trudeau's cabinet have spent a large chunk of their entire working lives in public office. Veterans Minister Lawrence MacAulay, Mental Health and Addictions Minister Carolyn Bennett and Intergovernmental Relations Minister Dominic LeBlanc have all served as MPs in the House of Commons uninterrupted for at least 20 years each.
"There has been a professionalization of politics over recent decades, and that, I think, is a reflection of a growing disconnect between policymakers and the broader population," said Hemingway.
However, he added, "there is evidence that if a working-class person takes office, the effects of that background seem to persist even after years in office in terms of their different perspective on economic issues, like inequality and social spending."
Hemingway explained that in a healthy democracy it is crucial for policymakers to have a pulse on the problems that the majority of society face. "There's always a place for specialists to advise and inform, and potentially to be elected representatives as well, but the idea that only a certain segment of the population is qualified to make public policy that's going to advance the common good doesn't hold water," he said.
One way to improve democratic participation, said Hemingway, would be to consider bringing ordinary citizens into the policy-making process on a more regular basis.
"That doesn't solve our problems with electoral politics and representation, certainly in the immediate time frame, but it could be a way to complement it," he added.
Alex Cosh is the managing editor of The Maple.