It has been 20 years since the Immigration and Refugee and Protection Act (IRPA) was put into effect. As we head into the new year, sex worker advocates are calling for it to be repealed, arguing it has led to migrant sex workers being unfairly targeted.
IRPA criminalizes human trafficking, making it an offence for third parties to arrange for the illegal entrance of migrant sex workers into Canada by means of abduction, fraud, deception, force or coercion.
In 2012, Stephen Harper's Conservative government made it illegal for anyone engaged in sex-related labour to access the Temporary Foreign Worker Program. At the same time, they amended IRPA to prohibit temporary residents from working for employers offering striptease, erotic dances, escort services or erotic massages.
"We serve immigrant and migrant sex workers, but a lot of the women who are migrants have precarious status here," Angela Wu, project manager at Supporting Women's Alternatives Network (SWAN) Vancouver, told The Maple. "IRPA puts them in a position where if they're detected to be working within sex work, then they can get arrested or detained or deported, and that happens quite often."
Wu also noted that many migrant sex workers don't have access to legal recourse or labour protection when they are victims of violence, because they fear the police more than they fear perpetrators.
In 2013, a Supreme Court decision struck down old prostitution laws on the basis that they were unconstitutional. As a result, the Protection of Communities and Exploited Persons Act (PCEPA), also known as Bill C-36, was created.
PCEPA follows the "Nordic Model" or the "Swedish" model, which allows for sexual services to be sold, but criminalizes buyers of sex. It also criminalizes anyone who materially benefits from others' sex work and anyone who advertises sexual services.
PCEPA contains both prostitution and sex-trafficking amendments, and "treats prostitution as a form of sexual exploitation that disproportionately impacts on women and girls." Its stated goal is to reduce demand for sexual services as a way to combat human trafficking.
Julie Ham is an assistant professor of sociology at Brock University, where she studies migration, the harms produced by the anti-trafficking industry and the impact of social difference in sex work.
"My sense of the conversations in Canada has been that anti-trafficking has consistently remained a way for law enforcement to surveil and monitor sex workers and migrant communities, so how it's been weaponized against particular communities has been consistent," Ham explained in an interview with The Maple.
The Global Alliance Against Traffic in Women (GAATW) published a report called "Collateral Damage" in 2007 which documented how anti-trafficking initiatives were compromising human rights around the world in various countries. Canada was not included in this report, but there were Canadian members of the alliance who affirmed that the problems happening in other countries were also happening in Canada.
According to Canada's National Action Plan to Combat Human Trafficking, less than 10 per cent of human trafficking cases in Canada involved people brought from another country, while over 90 per cent were domestic cases in 2012. Between 2011 and 2021, "95% of police-reported human trafficking incidents had a Criminal Code or IRPA-related human trafficking offence listed as the most serious violation," according to Statistics Canada.
Migrants who have been trafficked and consenting migrant sex workers are frequently conflated with one another, leading to migrant sex workers being disproportionately fined, arrested or detained, even if they are identified as victims.
Sandra Ka Hon Chu is a human rights lawyer and co-executive director at the HIV Legal Network. She has worked closely with Butterfly: Asian and Migrant Sex Workers Support Network, and believes surveillance bodies, such as law enforcement, engage in racial profiling to target sex workers.
"Asian women who are working together who may not speak English in the first language can be profiled and are often profiled as migrant sex workers or potential trafficking victims," Chu explained. "I know that the police and law enforcement also have certain signs that they look out for that could be very much associated with anybody who is living in precarity."
Sex workers' employment environments have been disproportionately regulated and surveilled by law enforcement and governing bodies. In recent years, municipalities across Canada have been updating bylaws regulating body rub centres following Bedford v. Canada, the 2013 supreme court ruling which struck down laws that criminalized selling sex. Despite evidence showing that massage parlours are not major sites of trafficking, in some municipalities these parlours are being unduly targeted.
Newmarket, Ontario has been among the most recent jurisdictions to enforce anti-sex work and anti-migrant regulations. City council passed a new Personal Wellness Establishments (PWE) bylaw last year, repealing the body rub classification and banning businesses that "appeal to erotic appetites or inclinations."
The previous body rub classification was given to businesses who offered massages by those who are not registered massage therapists. Newmarket originally had a cap of two body rub parlour licenses being issued for the entire town. The remaining massage spas and wellness centres were considered to be body rub parlours that were operating illegally. In 2021, city council decided to crackdown on these unlicensed businesses as a way to push sex work out of Newmarket.
The new "alternative massage" classification requires practitioners to obtain formal educational certifications from Canada. As of April, no Asian massage parlours have been able to receive the new PWE license.
In an article for Briarpatch magazine published earlier this year, Elene Lam, the founder of Butterfly, wrote: "Anti-trafficking policies like [Newmarket's erotic body rub ban] are just one tactic among many that Western governments use to keep migrant people of colour out of better-paying work and in the place assigned to them – to serve as a cheap, pliant workforce."
In 2022, SWAN and the GAATW co-authored a report discussing challenges faced by immigrant and migrant women in the Canadian labour market. Over 50 per cent had some form of post-secondary education from their place of origin, but either didn't have the correct accreditation or sufficient education to acquire non-sex work jobs in Canada.
"[Migrant women] come to Canada to immigrate and they choose to do sex work, because it's a job option for them and they don't have very many options either because of language barriers or maybe their credentials don't carry over to Canada," Wu said.
In Vancouver, Ham argued there seems to have been a shift by the authorities from targeting massage parlours to targeting workers who conduct their services in apartments — specifically migrant workers who are in Canada on a temporary visa. According to Ham, migration status and race are often conflated, which is leading to Asian women in general being over-policed.
"At the time of my research in Vancouver, for example, I found that most of the Asian women that I talked to in sex work were naturalized citizens or permanent residents or were Canadian born," Ham explained. "But, anti-trafficking was still very much a concern because their presence in the sex industry, the fact they spoke with an accent, and various other indicators marked them as potentially migrant, and therefore a target for increased surveillance in recent years."
According to Wu, Vancouver massage parlours aren't being watched as much as they are in other municipalities, but the challenge remains in organizing migrant sex workers, as deportation is still a threat.
"We have encountered women who actually will not accept condoms because […] say a bylaw officer comes by to check on an establishment and they find condoms there — that can prove that there's sex work happening in that location," Wu told The Maple. "So, it puts migrant workers in a really precarious situation of health and safety. They have to compromise physical safety."
GAATW proposes that ethical anti-trafficking measures have to be evidence-based and rights-based. Many other human-trafficking initiatives typically support more funding and resources being given to surveillance and law-enforcement bodies. Non-compliance with IRPA can result in deportation for migrant sex workers, a penalty which does not reduce human trafficking, and instead simply conflates actual cases of human trafficking with consensual sex work practices.
"One critique of the anti-trafficking framework is that the protective measures that are proposed for victims of human trafficking often seem to mirror methods of punishment," said Ham.
Chu thinks the passage of these regulations years ago was driven by a moral panic that resulted in sex work, human trafficking and migrant women being lumped together. This conflation between human-trafficking and consensual sex work is leading to governing bodies and donors concerned about the issue misdirecting resources - which could be better spent elsewhere - into surveillance of sex workers.
Groups like the Canadian Centre To End Human Trafficking, Parents Against Child Trafficking (PACT) Markham, and the Council of Women Against Sex Trafficking in York Region, are often supported by privileged board members and donors.
Meanwhile, government programs ostensibly set up to address human trafficking typically pour resources into law enforcement agencies. In 2012, the Harper government invested over $6 million annually into combatting human trafficking, with about $2 million going to the RCMP and Canadian Border Services Agency.
In 2019, the Trudeau government created the National Strategy to Combat Human Trafficking (National Strategy). The National Strategy is supported by an investment of $75 million over six years, starting in 2018, with $10.28 million annually thereafter.
Among other measures, the strategy specifically involves "coordinating Canadian law enforcement outreach operations to proactively identify potential victims of human trafficking, and enhancing the employer compliance regime under the Temporary Foreign Worker program."
In 2020, the Ontario government invested $307 million into combatting human-trafficking by supporting survivors and bolstering law enforcement over five years. Recently, the Alberta government announced it was providing $20.8 million over the next four years for a similar program.
Ham urges those concerned about the issue to be more critical towards anti-trafficking programming, and to refuse to participate in reproducing harm through nominal anti-trafficking measures.
"Historically, there has been this tendency to put a lot of money into what people think human trafficking is, or where people think human trafficking is occurring," said Ham.
Ham noted that other industries haven't received the same attention for being potential sites of trafficking that the sex industry has. She suggested resources could be better spent studying or combating trafficking in other areas.
For example, agriculture, entertainment, hospitality and domestic sectors are other potential sites for trafficking. Ham encourages others to support migrant sex worker advocacy groups and organizations.
Wu emphasized the challenges in building trust and community with migrants, especially when they are plagued with multiple intersecting barriers.
"The public is generally not ready to be pro-sex workers' rights, so we do get a lot of pushback from anti-trafficking organizations as well," Wu said. "I would say anti-trafficking organizations are really anti-sex work, because a lot of their mandate is actually to try to abolish the sex trade."
Editor's note, Dec. 14, 2022: A previous version of this story incorrectly stated that Sandra Ka Hon Chu is director of research and advocacy at the HIV Legal Network. In fact, Chu is co-executive director of that organization. The story has been corrected. The Maple regrets the error.
Editor's note, Dec. 19, 2022: A previous version of this story incorrectly named Supporting Women's Alternatives Network (SWAN) Vancouver. The group is called Supporting Women's Alternatives Network (SWAN) Vancouver, not "Sex Workers Action Network" (SWAN) Vancouver. The story has been corrected. The Maple regrets the error.
Ashlynn Chand is a freelance writer based in Edmonton. She has written for Ricochet Media, the Toronto Star, The Tyee, Jacobin, PressProgress and more.
---
Go deeper
Here are a few stories from our archive that expand on today's story
We spoke to PressProgress labour reporting intern Ashlynn Chand about her work covering the challenges faced by sex workers, and what advocacy groups are doing to fight for their rights and protections.
After months of uncertainty, international graduates from Canadian universities found out in April that they would have their post-graduation work permits (PGWPs) extended.
---
Top Maple story this week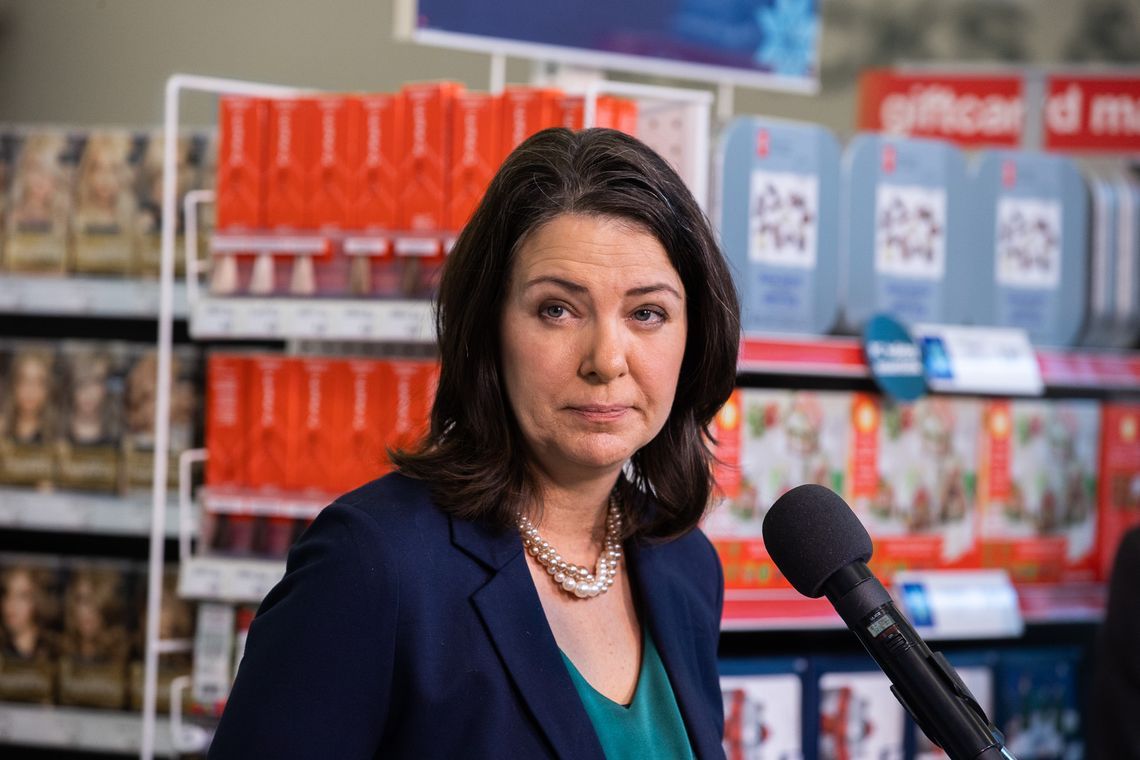 On this week's episode of The Maple's North Untapped podcast, we spoke with Alberta politics writer and commentator David Climenhaga about why Premier Danielle Smith pushed ahead with the so-called Sovereignty Act, despite legal experts lambasting its contents and predicting its death in the courts.
Download the full episode for free on Apple, Spotify or Google.
---
Catch up on our latest stories
Get all the latest posts delivered straight to your inbox.
Processing your application
Please check your inbox and click the link to confirm your subscription.
There was an error sending the email