Includes update added Dec. 8, 2022, 12:00 p.m. PST
Canada's ministry for immigration feared that exemptions it made for Ukrainians fleeing Russia's brutal invasion would lead to requests for "similar treatment" for individuals fleeing dangerous situations in other countries.
Specifically, a memo obtained by The Maple through an access to information request showed that the Ministry of Immigration, Refugees and Citizenship Canada (IRCC) anticipated criticism stemming from its decision to exempt Ukrainians from vaccination requirements for entry into Canada (which were still in effect at the time) without also extending that exemption to at-risk individuals in countries with equally limited access to vaccines.
"Facilitating entry of unvaccinated individuals from Ukraine may … be critiqued as an equity issue, leading to requests for similar treatment from unvaccinated individuals facing equally or more precarious circumstances in other parts of the world with equally low or lower vaccination rates," reads the memo in a list of "cons" pertaining to the decision.
The document was signed by IRCC Minister Sean Fraser, and copied to Health Minister Jean-Yves Duclos, Public Safety Minister Marco Mendicino and Foreign Affairs Minister Melanie Joly.
Despite the concern, Fraser advised that the exemption should nonetheless go ahead on the basis of Canada's national interest and because of the "special relationship" between Canada and Ukraine.
Toronto-based refugee and immigration lawyer El-Farouk Khaki told The Maple that concerns about the vaccination exemption highlight just one example of a broader "double standard" that has seen individuals in dire situations around the world finding it much more difficult to enter Canada than those fleeing Ukraine.
"I understand the health requirements, but clearly there is a double standard in their application," said Khaki. "If [vaccination was] a concern when the person is coming from Africa or Asia, why is it not a concern when they come from Ukraine? And if that can be accommodated, why can't other people be accommodated?"
As of Feb. 27, 2022, just 36 per cent of Ukrainians had received at least one dose of a COVID-19 vaccine, according to the World Health Organization. As of June this year, the United Nations reported that only 17.9 per cent of people in all low-income countries were vaccinated as a result of "vaccine apartheid," caused by wealthier countries hoarding supplies and refusing to support waivers on vaccine patents.
Canada's vaccination requirements, which were implemented in an effort to reduce the pandemic's spread, ended for all travellers in September. Regulations exempted formally recognized protected persons, individuals who had already been granted permanent residency through a successful refugee claim or those seeking refugee status if they arrived from the United States — but not if they arrived from elsewhere.
In March, a few days after Vladimir Putin launched Russia's invasion of Ukraine, Canada announced new immigration streams for Ukrainians seeking to enter Canada temporarily or permanently. This included the Canada-Ukraine Authorization for Emergency Travel (CUAET) program, in addition to prioritizing existing applications made by Ukrainian nationals through other channels.
The measures explicitly "eliminate[d] many of the normal visa requirements." Additionally, the government created a "special family reunification sponsorship pathway for permanent residence."
As part of CUAET, which allows Ukrainians to remain in Canada "until it is safe for them to return home," the government noted applicants were exempt from COVID-19 vaccination requirements, though they were still subject to other public health restrictions, such as quarantine and testing. Applications for the program were prioritized, and most fees waived.
Ukrainians admitted under CUAET are not formally treated as refugees, even though they are fleeing conflict. Accordingly, "unlike applications for resettlement as a refugee and streams for permanent residence, there is no cap on the number of visa, work and study applications that we will accept under the CUAET," the program website states.
Canada's relatively slow refugee approval process accounts for part of the motivation for accepting Ukrainians through the new program rather than existing refugee channels, according to news reports.
The memo obtained by The Maple recommended that the vaccination exemption cover all "Ukrainian nationals who hold a valid temporary resident visa or temporary resident permit issued under the Immigration and Refugee Protection Act."
The memo added, "If required and driven by need, consideration could later be given to extending the class based [National Interest Exemption] to other cohorts, including unvaccinated Ukrainian nationals holding a valid permanent residence visa." The measure did not exempt Ukrainians from Canada's domestic vaccine rules.
The memo pointed out that previous decisions to exempt athletes from vaccine requirements had garnered criticism, but noted "given the humanitarian angle with Ukraine, the same media concerns are not expected."
However, the memo also warned that "a broad exemption such as this could act as a pull factor for those who may seek to make claims for asylum in Canada."
Canada's welcoming of Ukrainian civilians is widely supported, particularly as Russia's illegal invasion has resulted in ongoing reports of human rights abuses, including lethal attacks on civilians, bombings of residential buildings and infrastructure, and a range of other war crimes. An Ipsos poll in July showed 64 per cent of Canadians supported accepting more refugees from Ukraine.
However, the same poll showed that far fewer Canadians – ranging between 33 and 37 per cent – were in favour of accepting more refugees from Afghanistan, Venezuela, Syria, South Sudan and Myanmar.
Refugee advocates have repeatedly asked why the broad exemptions Canada made for Ukrainians could not also be extended to those fleeing similarly dangerous situations in other countries, with many pointing to systemic racism as an underlying factor. In particular, Afghans fleeing Taliban rule have reportedly encountered more barriers to entering and settling in Canada than Ukrainians.
Khaki said the way Canada has treated Ukrainians should be viewed as a "model" for how to handle refugees fleeing all international crisis situations.
He explained that some of his clients seek asylum in Canada, meaning they have to make a refugee claim after their arrival at a port of entry. Individuals seeking asylum from countries like Tanzania, Uganda, Kenya and Caribbean countries had to stay in hiding while flights were cancelled during the early days of the pandemic, and then needed to get two doses of a COVID vaccine – a difficult task in many low-income countries – before they could board a plane for Canada.
"Many of them were in dangerous or precarious situations," Khaki noted. Canada also came under heavy criticism for turning refugees away at the Roxham Road border crossing in Quebec at the beginning of the pandemic, before reopening it in November 2021.
"This vaccine thing is simply part of that ongoing double standard and gaslighting that goes on when we're talking about systemic racism, and how it affects different populations within Canada and different populations wanting to come to Canada," Khaki explained.
"Overall, in terms of the accommodation that was made, protecting and giving refuge for Ukrainians was so facilitated; other groups have not had that."
Khaki said the process by which Canada distinguishes which people from around the world to prioritize for entry is "arbitrary." He pointed to the fact that Canada did not coordinate a mass resettlement program for the Rohingya, despite a brutal campaign of violence against them at the hands of the Myanmar government starting in 2017.
As of November, Canada had approved 435,000 CUAET applications for Ukrainians. By comparison, Canada has reportedly admitted just 1,000 Rohingya people since 2006.
"I keep getting these things in my inbox about the dire urgency, and this has been for several years running," said Khaki. "Why is an exemption not being granted to them? And that's a much smaller population. They still sit in their refugee camps on the brink of imminent death."
"If we can do this for Ukrainians, we can do this for a whole bunch of other people," Khaki added. "And we should do it for a whole bunch of other people."
Similarly, Cassandra Fultz, also a Toronto-based immigration lawyer, told CTV News in March: "This is basically how all immigration programs should be for everyone. But instead, it really is night and day if we talk about the programs for Afghanistan's refugees." As recently as August, desperate Afghan refugees were reportedly still in hiding and left waiting to enter Canada in a state of limbo.
Matthew Behrens, co-ordinator of the Rural Refugee Rights Network, told the Ottawa Citizen about Canada's starkly divergent treatment of different groups of refugees: "The machinery does work, as long as the colour of your skin or your religious background is acceptable. The numbers don't lie."
IRCC has pointed to Canada's lack of military and diplomatic presence in Afghanistan as reasons for its delay in processing refugee applications from that country. The ministry did not respond to a request for comment from The Maple regarding concerns about unequal treatment of refugees.
Aidan Simardone, a Toronto-based legal professional focusing on international, immigration, and human rights law, told The Maple that humanitarian concerns and geopolitical interests are sometimes at odds with each other when the Canadian government develops refugee policies.
"There has always been a strategic aspect both racially and geopolitically," said Simardone. On one level, he said an underlying system of white supremacy makes it easier for Europeans to enter Canada than people from Africa and Asia.
But there are other geopolitical concerns, which see Canada more willing to accept refugees if doing so aligns with its international political priorities. Canada's alliance with Ukraine, for example, means it is willing to invest resources and exemptions in accepting refugees from that country rather than, say, Yemen, which has been devastated by Saudi Arabia-led airstrikes.
"Geopolitics and white supremacy, more than humanitarianism, have always been in the driver's seat when it comes to immigration policy," Simardone noted.
Update, Dec. 8, 2022: One week after The Maple contacted IRCC requesting comment, the Ministry issued a statement. It reads in part:
"During this time, global vaccine supply was limited and varied across countries, especially for those in particularly vulnerable circumstances. Resettled refugees [i.e., those already granted permanent resident status] were exempt from Canada's COVID-19 travel restrictions [as noted above], including vaccination requirements. However, stringent health and safety protocols were still in place to ensure the health and safety of Canadians ... The Government of Canada remains committed to providing protection to vulnerable individuals in need of resettlement. When responding to international crises, there are often similarities in that people may be fleeing persecution of some sort, but the immigration response may differ. To bring Afghans to Canada as quickly and safely as possible, the Government of Canada is exploring all avenues to support safe passage, and maximizing every opportunity to help Afghans leave Afghanistan and travel onwards to Canada."
Alex Cosh is the managing editor of The Maple.
Edited by John Young.
---
Go deeper
Here are a few stories from our archive that expand on today's story
"They don't see us as people."
The war in Ukraine was front and centre as journalists, politicians, military leaders and businesspeople gathered for the annual Halifax International Security Forum (HFX).
---
Top Maple story this week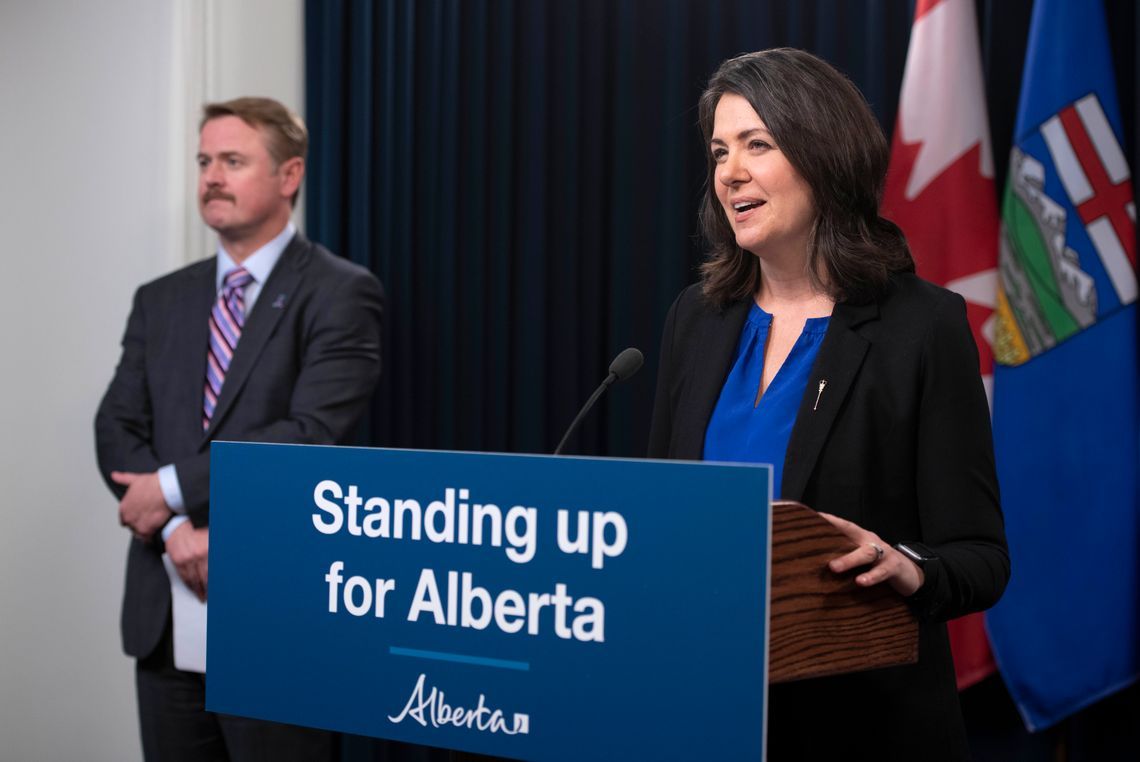 Alberta Premier Danielle Smith introduced Bill 1, the much anticipated "Alberta Sovereignty Act," last week, prompting a stream of intense criticism from experts and analysts who say the bill is unconstitutional and undermines democracy.
---
Catch up on our latest stories
Get all the latest posts delivered straight to your inbox.
Processing your application
Please check your inbox and click the link to confirm your subscription.
There was an error sending the email