The second day of the Halifax International Security Forum (HFX) opened with the awarding of the John McCain Prize for Leadership in Public Affairs to all the women of Ukraine.
Named after the hawkish late U.S. senator from Arizona, the award was presented by the senator's son, Jack McCain, with Ukrainian First Lady Olena Zelenska accepting it via a pre-recorded video.
"My father warned of the danger of [Russian President] Vladimir Putin for many years, when others were resetting relations or seeing into his soul," said McCain, referring to presidents Barack Obama and George W. Bush respectively. "John McCain saw a KGB thug and called him that."
Ukrainian women have "involuntarily become heroes, with bravery, honour and dignity that has inspired the world," McCain added.
Zelenska, in accepting the award, called the late senator a "great friend of Ukraine," pointing to a street in Kyiv named after him, which she said was recently hit with a Russian missile.
She said there are 40,000 women volunteering with the Ukrainian Armed Forces, and others are attempting to carry out life as normal while Russian bombs fall.
"As we speak, every Ukrainian woman is living millions of lives, each overshadowed by the tragedy of war that she did not want [and] did not provoke," Zelenska said.
U.S. Secretary of Defense speaks
Later in the afternoon, U.S. Secretary of Defense Lloyd Austin, the first African-American to be appointed to that role, addressed attendees.
Austin – who served as a commander during the U.S. invasion and occupation of Iraq, which directly resulted in the deaths of up to 207,000 civilians – said NATO and its allies are motivated by "clear first principles," including the view that the "imperial ambitions of bullies don't outweigh the sovereign rights of UN member states."
He warned of the "hard months and years ahead" resulting from Russia's invasion of Ukraine.
Austin also cautioned against an "increasingly assertive China — a China that is trying to refashion both the region and the international system to suit its authoritarian preferences."
This behaviour of U.S. adversaries is an affront to Western nations' "vision of a free and stable international system," he claimed.
Austin insisted NATO "will not be dragged into Putin's war of choice," but said it will also protect "every inch" of NATO territory if necessary.
The "rules-based international order," which was invoked constantly throughout the weekend in Halifax, "isn't some piece of abstract political science jargon; it is one of the towering achievements of human government," he suggested.
'Too much critical thinking'
"We have a problem in the U.S. of too much critical thinking," said Yasmin Green, the CEO of Google's in-house think tank Jigsaw during a plenary dubbed "The Disinformation Nations: Kidnapping Our Citizens, Corrupting Our Officials, Stealing Our Stuff." The panel was moderated by former CBC Power and Politics and CTV Power Play host Evan Solomon, who now works for the Eurasia Group consulting firm.
Joining Green on the panel were Delaware U.S. Sen. Chris Coons, Australian Director of National Intelligence Andrew Shearer, exiled Belarusian opposition leader Sviatlana Tsikhanouskaya and StopFake editor-in-chief Yevhen Fedchenko.
"Disinformation" – a term that in recent years has been applied to everything from empirical falsehoods about COVID vaccines to dissenting opinions on NATO – wasn't defined at any point during the discussion.
Tsikhanouskaya resides in Poland after Belarus President Alexander Lukashenko — a Putin ally — ordered a crackdown on protests against his re-election, which was widely regarded as fraudulent.
For many Belarusians, she said, the information war is often more important than the ground war against Putin, since Belarusian state media solely presents Russia's perspective on the war in Ukraine, with other viewpoints blocked by authorities.
Sen. Coons said there are "differently configured disinformation threats" with different forms of government.
While authoritarian countries, like Belarus, censor "reliable, independent information," in "open societies," there is an overabundance of information, some of which is deliberately false, whether it's concerning COVID or the results of the 2020 U.S. election, Coons continued.
Coons called Chinese social media app TikTok a "malevolent" force for its data-scraping potential and how "significantly distracting" it is for young people. "But getting my kids to stop looking at TikTok every day, every minute is enormously challenging," he said. "It's engaging; I would even say addictive."
He touted the proposed bipartisan Platform Accountability and Transparency Act (PATA), which would compel social media companies to subject their algorithms to academic scrutiny, "so we know whether or not Instagram is demonstrably harmful to young people, that we know whether state actors are able to use these tools to accelerate radicalization or to shape our political space."
But Coons also expressed a desire for the government to partner with Big Tech firms to combat "disinformation" — a sentiment shared by Tsikhanouskaya.
Jigsaw's Green said discussions of "disinformation" often focus around its supply, but suggested officials ought to also be concerned about the demand for it. She said her think tank has an "ongoing panel of people who are conspiracy-minded," with whom they discuss their beliefs and information sources in detail.
"There's now this intersectionality of conspiracy belief," she said, citing health, election denial, QAnon, false flag and 5G conspiracy theories.
There is, she explained, a whole cottage industry of actors capitalizing on these people's desires for alternative sources of information. "There wasn't a single person who only believed in one conspiracy theory," she said of Jigsaw's panelists.
She expressed concern about private channels, like Telegram, or ideological outfits, like Parler and Rumble, whose entire "marketing shtick" is a lack of policies against "disinformation."
Disinformation or inconvenient information?
Fedchenko of StopFake said he's been looking into the "black depths of Russian disinformation" since 2014.
"Everything that Russia put on disinformation sites was absolutely connected with what was happening on the front lines," Fedchenko said.
He said Russia attempted to "sow doubts" among supporters of Ukraine by claiming weapons sent to Ukraine were being sold on the black market and that Ukraine is a corrupt state.
But experts The Maple spoke to in March agreed the risk of weapons sent to Ukraine falling into the hands of illicit arms dealers, Ukrainian far-right extremists and Russian separatists in the Donbas as the war continues is very real. In July, the Ottawa Citizen reported that Canada has no way to track its arms transfers to Ukraine despite those concerns and did not take part in NATO discussions to address the issue.
In June, Jürgen Stock, the head of Interpol, warned: "Once the guns fall silent [in Ukraine], the illegal weapons will come. We know this from many other theatres of conflict. The criminals are even now, as we speak, focusing on them."
On the issue of corruption in Ukraine, an October 2022 article on the website of the German Marshall Fund, which founded the HFX in 2009, argued the U.S. and EU must send "hundreds of billions of dollars for recovery and reconstruction [to Ukraine] only if the aid architecture and reform agenda aggressively prioritize anti-corruption."
Later, Fedchenko said disinformation is "ruining freedom of speech," because it occupies space which could be occupied by what he regards as factual journalism. He lamented how Russian propaganda is still freely available in countries which haven't sanctioned Russia, such as Brazil and India.
Citing recent reporting on alleged Chinese interference in the 2019 Canadian federal election, Solomon asked Shearer how Australian intelligence has dealt with similar threats.
"These techniques have been around as long as there's been statecraft," Shearer said, accusing foreign actors of attempting to "sow seeds of domestic discontent."
He applauded the "extraordinary work around the world" of the Five Eyes intelligence alliance, which is composed of Canada, the U.S., the U.K., Australia and New Zealand, for mitigating the threat of foreign interference, from state and non-state actors.
But, he added, investing in technology will assist nations further in preventing foreign interference.
Concerns about tech dominance
Anton La Guardia, the Washington-based diplomatic editor of The Economist, moderated a plenary titled "Mind the Gap: Keeping Our Tech Superiority."
The panel featured General Wayne Eyre of the Canadian Armed Forces, Dutch Minister of Defence Kajsa Ollongren, Nevada U.S. Sen. Jacky Rosen, South Dakota Sen. Mike Rounds and General David Thompson of the U.S. Space Force.
"We should be worried," La Guardia said at the plenary's outset, referring to a film about the "tech war" between the U.S. and China that in-person attendees watched but wasn't available to remote viewers.
He cited the fact that China now "produces more of the world's highly-cited academic research" than the U.S. as a cause for concern.
Eyre said the ability to keep up with technological change and to integrate it into operations is a challenge, whether it's air, sea, cyber or space capabilities.
"It's so important to integrate, not only the military domains, but the other elements of national power as well — information, economics, diplomacy," Eyre said, expressing concern that "adversaries [are] much more integrated than we are to achieve national objectives."
La Guardia asked Ollongren what the outlook of a country like the Netherlands, where semiconductor manufacturer ASML is based, is on the U.S.-China tech war.
"We have to keep the technological edge," Ollongren said, highlighting the importance of an export control regime so that valuable Western technology doesn't wind up in adversarial states. "Security must come first," she insisted.
Sen. Rosen boasted that she's the "only person in the U.S. Senate that ever got paid to write computer code for a living," referencing her previous career as a programmer.
She said officials cannot only think about the business side of tech and must also consider how much control they're giving it over decision-making processes, a theme that would recur throughout the discussion, especially as it pertains to artificial intelligence.
La Guardia asked Sen. Rounds about the risk of U.S. allies being put at an economic disadvantage due to competition with China.
Rounds said most people would rather live in "free societies," which is "an advantage that we'll always have."
The moral dilemmas of AI
Eyre cautioned that no matter how much we integrate AI into the military, we must ensure that the "human is the ultimate decision maker."
General Thompson of the Space Force said the "moral and ethical dilemmas" of the role AI plays in conflict are reduced in space, because the role of humans is already diminished in that environment. "You basically have machines and robots fighting each other," he said.
Rounds said AI is a fact of life, pointing to advertising and social media algorithms, and argued the U.S. must incorporate it into the military before its enemies do. "We can use it in an ethical way, or we can do it in the way the Chinese Communist Party has, which is to control the people," said Rounds.
Earlier in the panel, he approvingly cited the example of the Nagorno-Karabakh war between Azerbaijan and Armenia in 2020, where Azeri forces used sophisticated drones that could communicate with each other to automatically pick out Armenian tanks and determine which to attack, without human intervention.
Left unsaid was the 6,500 people who died over the span of the six-week war.
Asked how to maintain U.S. technological dominance in the face of competition from China and other adversaries, General Thompson paraphrased People's Republic of China founder Chairman Mao Zedong, saying we must "let 1,000 flowers bloom and then pick the best among them."
A member of the New Zealand military asked during the Q&A whether the international humanitarian frameworks we have are sufficient for dealing with the use of AI in battle.
Ollongren said these frameworks are sufficient, but the challenge is to "apply them in this new, dynamic system with technology developing at a pace that we can't always keep up with."
Stew Magnuson, editor-in-chief of National Defense magazine, asked how long can the policy of always having a human overseeing AI last, given the rapid development of that technology.
"We already have machines deciding to pull triggers today, especially when you think about automatic defensive systems," Thompson said. "Where we really have to think hard is what are the conditions under which we can never let a machine make the decision without a human being in the loop."
Jeremy Appel is a journalist based in Calgary, and his work has appeared in The Sprawl, CBC Calgary, Jacobin, Passage and the Forward. He also co-hosts the Forgotten Corner and Big Shiny Takes podcasts.
---
Go deeper
Here are a few stories from our archive that expand on today's story
It's business as usual for Canadian military sales to Saudi Arabia, despite the theocratic kingdom's horrific human rights record and an apparent diplomatic spat with Canada.
Attendees at the 2022 Farnborough International Airshow (FIA), including two Canadian trade ministers, were sheltered from the United Kingdom's sweltering heat wave in July as they mingled with arms dealers and buyers from around the world.
---
Top Maple story this week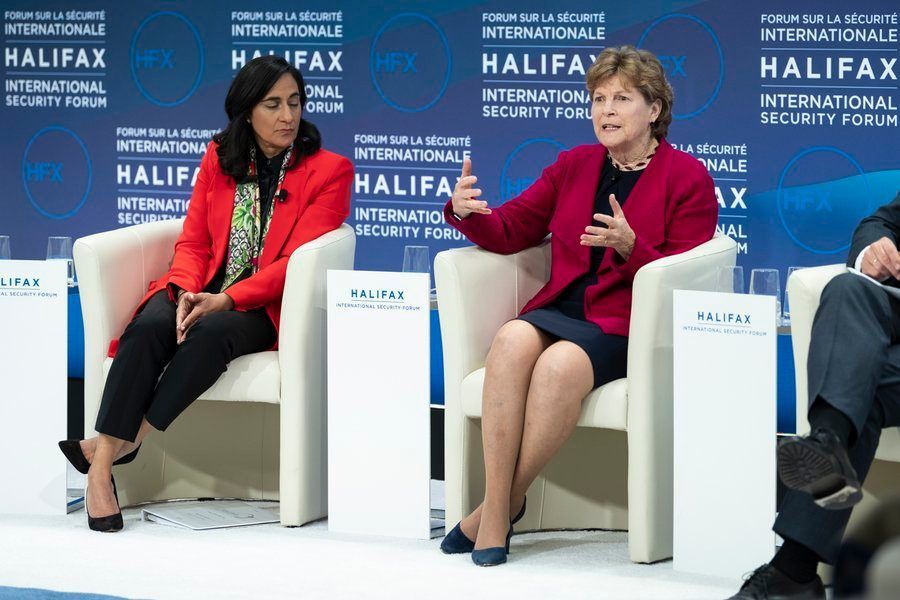 The war in Ukraine was front and centre as journalists, politicians, military leaders and businesspeople from around the world gathered in Nova Scotia from Nov. 18 - 20 for the annual Halifax International Security Forum (HFX).
---
Catch up on our latest stories
Get all the latest posts delivered straight to your inbox.
Processing your application
Please check your inbox and click the link to confirm your subscription.
There was an error sending the email