From CBC News: A gay woman who fled Syria three years ago told CBC News Monday that her life is at risk every day as she waits to be admitted into Canada.
Nour and her friend Fouad fled Syria to Lebanon in 2019. Fouad had a serious heart condition and was seeking medical treatment in Canada.
Nour told CBC that Fouad had hoped his Canadian refugee application would be expedited because of his health issues, but he died while waiting for his application to be processed.
Nour told CBC: "Fouad used to say he'll go to Canada and bring me there. Now, I'm just afraid that I'm not going to make it to Canada but to where he is."
Nour said she was blackmailed by a police officer in Lebanon for sex, and fears going out in public. Her partner is diabetic, and is not being given medical aid, causing mental health issues.
The current processing time for refugee applications from Lebanon is nearly four years. As of Dec. 15, CBC said, Canada has 114,046 refugee applications waiting to be processed.
Lisa Hébert, board chair at Capital Rainbow Refuge, told CBC that requests to expedite Nour's case have been rejected twice by Immigration, Refugees and Citizenship Canada (IRCC).
Hébert said she had to send IRCC photos of injuries suffered by another refugee applicant who had been badly beaten in a homophobic assault in Turkey in order to support a request for his application to be expedited. The federal agency promised to expedite the man's case, but he remains in Turkey.
Hébert said: "He was quite suicidal after (the attack), and hasn't gone out since then as those men are aware of his address. Canada should be responsive to vulnerable cases but we're not seeing that."
Waheeda Ekhlas Smith, an employment lawyer in Toronto, told CBC that her family sponsored five relatives who fled to Tajikistan from Afghanistan before the Taliban took over in August. The relatives are now stuck in limbo as they wait to be admitted to Canada.
Read CBC News' full story here.
---
The Maple Podcast: Don't miss the latest episode of The Maple's Great Gilded North podcast series, in which we spoke to independent journalist Jeremy Appel about his recent article titled 'The Powerful Oil And Gas Executives Opposing Canada's Climate Commitments.'
Today, we released a quick podcast update about our end-of-year crowdfunding campaign, and our plans for the holiday period and new year.
Subscribe to our podcast on Apple, Spotify or Google.
---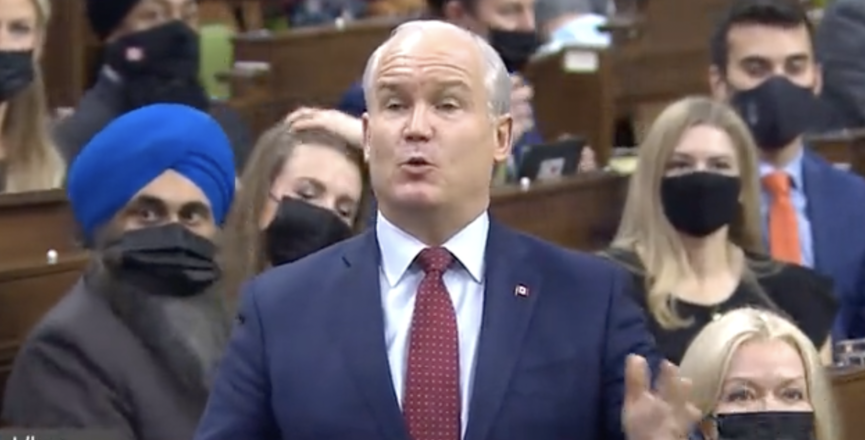 Other News
Conservative Party Leader Erin O'Toole ordered Tory MPs to stop publicly criticizing Quebec's discriminatory religious symbols ban in a tense caucus meeting last week, the Toronto Star reported Saturday.
Residents at a homeless encampment in Wetaskiwin, Alta. are continuing to raise concerns about insufficient access to basic services and amenities after a warming shelter recently opened nearby, The Canadian Press reported Monday.
A new report from Canada's correctional investigator has found that Indigenous women now account for almost half the female inmate population in federal jails, a trend which Cree lawyer Eleanore Sunchild said reflects the fact that Canada's justice system is rife with systemic racism and fails to recognize Indigenous peoples as "human beings," CBC News reported Saturday.
---
WATCH: In one of his signature rants, Vancouver-based broadcaster Mo Amir slams Prime Minister Justin Trudeau's failure to intervene in the fight against Quebec's discriminatory Bill 21, which Trudeau's own MPs have said violates Canada's Charter of Rights and Freedoms. Amir added that both Conservative leader Erin O'Toole and NDP Leader Jagmeet Singh have also been largely silent on the issue, making them "cowards."
---
Post Of The Day: In a tweet posted Monday, Canadaland's Jonathan Goldsbie noted that Postmedia's widely ridiculed "Capitalist Manifesto" series was launched at the same time as the right-wing media company disclosed its executives' annual compensation.
"I appreciate how Postmedia's "Hooray for Capitalism!" celebrations were perfectly timed to their annual disclosure of executive compensation, which this year came out to $8 million (more than half of that in bonuses)," wrote Goldsbie. "At $8 million, Postmedia's compensation to its highest-paid executives finally outstripped the funds it got from the news bailouts ($6.9 million)."
---
One More Thing: David Mastracci, the managing editor of our friends at Passage, is launching a newsletter next week tracking the activities of pro-Israel lobby groups and their attempts to pressure journalists in Canada. You can sign up for the newsletter here — it's free!
For a recent example of how pro-Israel lobby groups pressure Canadian media outlets, check out this article for The Maple by Taylor C. Noakes about how the Postmedia-owned Montreal Gazette apologized earlier this month for running an Amnesty International ad featuring a teenage Palestinian journalist at the behest of a group called "HonestReporting Canada."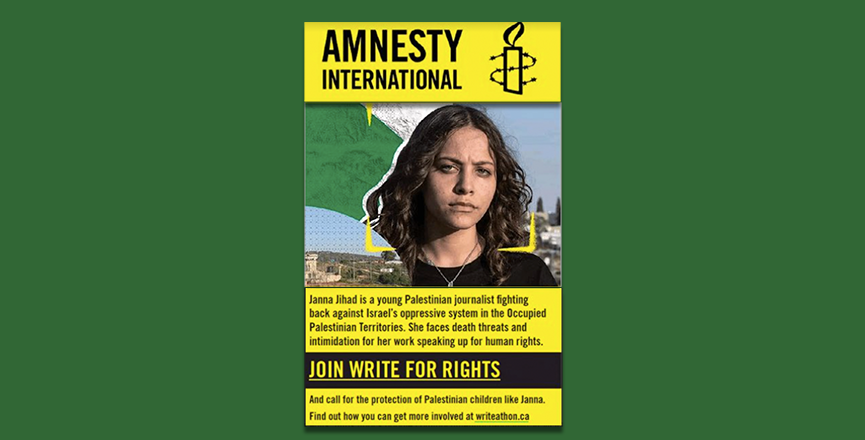 ---
Commentary
In The Tyee, Andrew Longhurst writes that the B.C. government needs to get serious about implementing measures to tackle the spread of the Omicron variant of COVID-19. "...The B.C. government won't distribute taxpayer-funded rapid tests from the federal government before the holidays, even as other provinces have long been distributing the same take-home tests," writes Longhurst. "The government made no commitment to ramp-up third doses. Many vaccine clinics are closing for the holidays, and reports are widespread that many people at the six-month mark have not even received an invitation to book … The Omicron wave is here. And B.C. is out of step with other jurisdictions in its (lack of) response."
On his Alberta Politics blog, David Climenhaga slams the Alberta UCP government's shambolic roll out of free rapid COVID testing as a sign that Jason Kenney cannot or will not plan ahead during public health emergencies. "Throngs of Albertans lined up early in bitterly cold weather Friday to get the packages of free rapid antigen test kits only to discover that they had run out before they got there, weren't delivered at all to many locations, or that the tool on the Government of Alberta website that was supposed to say which commercial drugstores and Alberta Health Services sites had supplies was wrong," writes Climenhaga.
In Passage, Robert Hiltz writes that SaskTel shows that even if Canada cannot have a nationalized telecom sector, this country would be far better off with at least a public option. "Saskatchewan has the country's only telecom crown corporation, SaskTel," writes Hiltz. "While other public telephone utilities were privatized, SaskTel has survived, in large part because it offers better service for less money."
---
Catch Up On Our Latest Content
Get all the latest posts delivered straight to your inbox.
Processing your application
Please check your inbox and click the link to confirm your subscription.
There was an error sending the email