Written by Alex Cosh
In the latest episode of The Maple's North Untapped podcast, we spoke to Yves Engler, a fellow with the Canadian Foreign Policy Institute, about the Liberal government's plan to spend $40 billion over 20 years to "modernize" the North American Aerospace Defence Command (NORAD).
We discussed NORAD's history, why critics are concerned about how it undermines Canadian sovereignty, and how weapons dealers benefit from public spending on the program.
Engler said:
"It's … about making the whole Canadian military procurement, the purchases, the military doctrines, etc., structured around the American military weaponry [and] ways of doing things."
As well, Engler continued, the joint military command is a boon to weapons manufacturers:
"The weapons industry is no doubt going to benefit from pumping all this new money into upgrading NORAD, and that's an important part of understanding all of the military and why the military has so much political power."
To hear more, download the full episode on Apple, Spotify or Google.
You can also find our recent reporting on how weapons manufacturers have lobbied the federal government for NORAD contracts in recent months here.

---
Community Solidarity Group Prepares for 'Freedom' Convoy's Return
"Ottawa police are planning "unprecedented and unique" security measures in response to any return of anti-government demonstrations Friday for Canada Day … [Council of Canadians Chairperson John] Cartwright believed the convoy had created a unique moment in Canadian history "at a time of uncertainty" amid the "politics of intolerance" … He also saw an opportunity to "step up and provide courageous leadership in this time of crisis" …"
Listen to The Maple's recent interview with Cartwright about the new organization Community Solidarity Project that is helping to mobilize communities to counter reactionary groups linked to the so-called "freedom" convoy, and to fight for a better future.
You can also read our coverage of other community groups that mobilized against the convoy earlier this year here.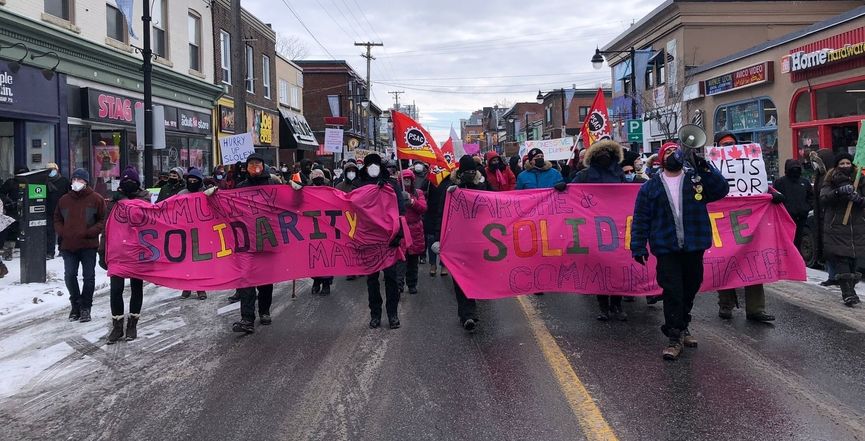 ---
74 per cent
Data of the day from Leger: Nearly three-quarters (74 per cent) of British Columbians on low incomes are concerned or very concerned about another deadly heat dome happening in 2022, according to a Leger poll. Last year's heat dome, driven by the climate crisis, killed 619 people in B.C., of whom 90 per cent were aged over 60.
---
Other News
---
Catch up on our latest content
Get all the latest posts delivered straight to your inbox.
Processing your application
Please check your inbox and click the link to confirm your subscription.
There was an error sending the email