Last August, Canadian diplomats noted that a far-right Israeli politician had provoked attacks against Palestinian civilians and escalated a dangerous situation that forced Canadian embassy staff to take extra safety precautions.
Four months later, Canadian ministers warmly welcomed Israel's new government in which the same politician, Itamar Ben-Gvir, was appointed minister of "national security."
Despite continued pressure from human rights activists, the Trudeau government has provided no indication that it plans to boycott meetings with extremist ministers in Israel's new government, which is heavily influenced by convicted racists and supporters of far-right terrorism.
The internal warning about Ben-Gvir came during Israel's attacks on Gaza last year.
On Aug. 5, Israel launched a series of "pre-emptive" airstrikes on the area, resulting in the deaths of 49 Palestinians, including 17 children. The attack followed tensions between the Islamic Jihad movement and Israeli forces, as well as Israel's closure of a border crossing through which fuel is transported to Gaza's only power plant.
During the raids, far-right extremist Ben-Gvir — an openly racist member of Israel's Knesset and a convicted supporter of terrorism — fuelled tensions further by marching toward the Al-Aqsa mosque — the third holiest site in Islam — in Jerusalem. News reports in Israel noted that the move risked escalating the fighting, which at that point had already claimed dozens of Palestinian lives.
The provocation was also flagged in an internal Global Affairs Canada (GAC) situation report, obtained by The Maple through an ATIP request. The report was sent by Canada's diplomatic staff in Ramallah to senior GAC staff in Ottawa, including GAC's Watch Unit, which is tasked with monitoring events that impact "the safety and security of Canadians, Canadian missions or Canadian interests abroad."
The report, dated Aug. 7, explained that "skirmishes" between Palestinians, Israeli forces and far-right Israeli nationalists had broken out in East Jerusalem, and noted that "further confrontations were reported inside the Old City around midnight when far-right Israeli MK Ben Gvir participated in a march through the Old City towards the Al-Aqsa compound."
The Israeli forces, the report continued, then escorted Ben-Gvir and other nationalists into the esplanade of the Al-Aqsa compound while Palestinian worshippers were "denied entry" to the area. Some Palestinians were also arrested.
The report noted that during the provocation, Israeli forces arrested AFP photographer Ahmad Gharabli, while video footage on social media showed "violent assaults taking place by right-wing nationalists against Palestinian residents and journalists." Gharabli had been documenting some of those attacks.
The situation had become so dangerous that the Old City in Jerusalem was placed "off limits" for Canadian embassy staff, and "out of an abundance of caution," staff in Ramallah were to travel in "[armoured vehicles] only for official business."
The report was approved by Canada's then-representative to the Palestinian Authority, Robin Wettlaufer.
In November, Ben-Gvir would go on to be appointed by Israeli Prime Minister Benjamin Netanyahu — who is relying on support from the far-right to curtail Israel's judicial independence as he faces trial for corruption — as minister of "national security."
As previously reported by The Maple, Prime Minister Justin Trudeau and Foreign Affairs Minister Mélanie Joly offered warm words of congratulations to Netanyahu's new government despite GAC staff acknowledging internally that the administration is highly influenced by "extreme far-right" political figures — including Ben-Gvir — who occupy key positions of power.
In their congratulating statements, neither Trudeau nor Joly acknowledged or expressed concerns about the extremist elements in the new government.
Following his ministerial appointment, Ben-Gvir led another march through the compound housing the Al-Aqsa mosque, in a move condemned as an "unprecedented provocation" by Palestinian leaders earlier this month.
The move was indirectly criticized by Lisa Stadelbauer, Canada's ambassador to Israel, who tweeted: "We oppose actions that risk destabilization and undermine the prospects for a comprehensive, just and lasting peace for the Palestinian and Israeli people." Joly and Trudeau were silent on the matter.
GAC did not respond to a request for comment from The Maple regarding the internal situation report sent during the attack on Gaza last August.
A Pattern of Silence
The situation report describing Ben-Gvir's provocation is the latest example of Trudeau government officials appearing to internally acknowledge some cases of Israel's aggression against journalists and civilians, but offering little, if any, public condemnation of those actions or calls for accountability.
In July, The Maple revealed that shortly after Israeli forces shot and killed Palestinian journalist Shireen Abu Akleh, GAC received a report from Canada's diplomatic office in Ramallah noting that Israel has a well-documented track record of failing to properly investigate when its security forces attack reporters.
The next day, May 12, a separate report from the Canadian Embassy in Tel Aviv acknowledged that Israel's narrative claiming that a Palestinian gunman may have killed Abu Akleh had been "largely debunked."
Despite the information in these reports, Joly's statements in the aftermath of Abu Akleh's death excluded calls for an independent investigation, and the minister did not condemn Israel as the perpetrator.
Following the attacks on Gaza last August, the Trudeau government received heavy criticism as the only statement it issued came from a relatively obscure government-owned Twitter account, and was not echoed or boosted by any ministers. The statement did not mention the deaths of children, and defended Israel's use of force.
More recently, Canada refused to join more than 90 other countries who condemned punitive actions taken by the Israeli government against Palestinians in retaliation for a UN request for the International Court of Justice to provide an opinion regarding Israel's occupation of Palestine.
Instead, Canada published its own separate statement earlier this week that did not call for Israel's measures to be reversed and portrayed them as being directed against the "Palestinian Authority" rather than the "Palestinian people."
Michael Bueckert, vice president of the advocacy group Canadians for Justice and Peace in the Middle East (CJPME), said it is notable that Ben-Gvir was specifically named in the August situation report, and that diplomatic staff were forced to take extra safety precautions.
"Clearly, they know who [Ben-Gvir] is, and know how dangerous he is," Bueckert told The Maple. "At the same time, none of this experience seems to have factored at all into Canada's reception of the new government."
"No matter what happens on the ground, none of that trickles up into how the Canadian government responds."
CJPME has been calling on the Canadian government to immediately expel Israel's ambassador, Ronen Hoffman, in addition to suspending military trade with Israel and all trade with illegal settlements. Bueckert said that there so far hasn't been much response from Canadian politicians to those demands, noting that Parliament is not yet in session.
"There can't just be silence and there can't just be a symbolic gesture of disapproval," said Bueckert. "There needs to be actual action taken to address what they know to be a dangerous and volatile situation that puts millions of people into further harm."
Bueckert noted that while Netanyahu's government is more overtly extreme in its aggression against Palestinians than its predecessors, it was under the relatively "moderate" government of Yair Lapid and Naftali Bennett that last year's attacks on Gaza and the killing of Abu Akleh took place.
In all, the previous government oversaw the deadliest year (2022) for Palestinians in 16 years.
As well, while critics argue that Netanyahu's far-right supported judicial reforms will cripple the courts' independence and rollback minority rights, others point out that it was under previous Israeli governments that world-renowned human rights organizations found that Israel is practising the crime of apartheid in all areas under its control.
Alex Cosh is the managing editor of The Maple.
Edited by Davide Mastracci.
---
Go deeper
Here are a few stories from our archive that expand on today's story
The Trudeau government is offering warm words of congratulations to Israel's new government despite Global Affairs Canada (GAC) staff acknowledging internally that the administration is highly influenced by "extreme far-right" political parties that occupy key positions of power.
Shortly after Israeli forces shot and killed Palestinian journalist Shireen Abu Akleh in May, senior Global Affairs Canada (GAC) staff received a report from Canada's diplomatic office in Ramallah noting that Israel has a long track record of failing to properly investigate when its security forces attack reporters.
---
Top Maple story this week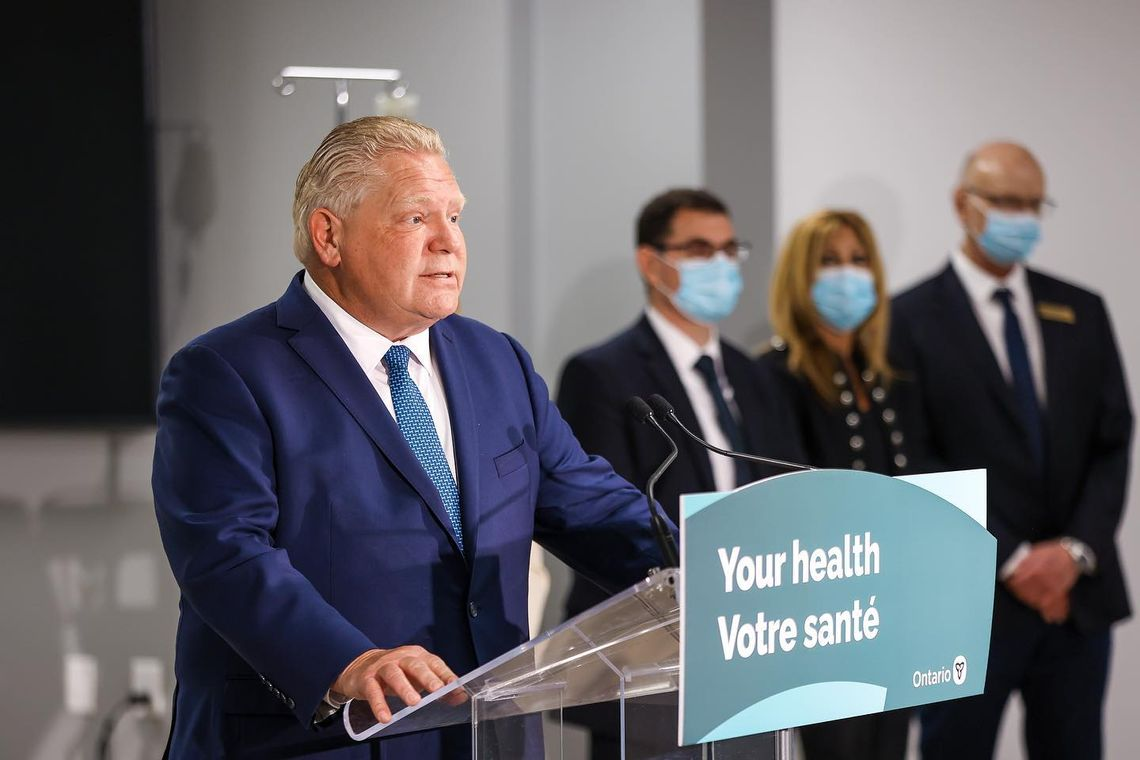 Ontario Premier Doug Ford has announced plans to further privatize surgical and other medical procedures, meaning more of those services will be delivered by for-profit health facilities.
---
Catch up on our latest stories
Get all the latest posts delivered straight to your inbox.
Processing your application
Please check your inbox and click the link to confirm your subscription.
There was an error sending the email