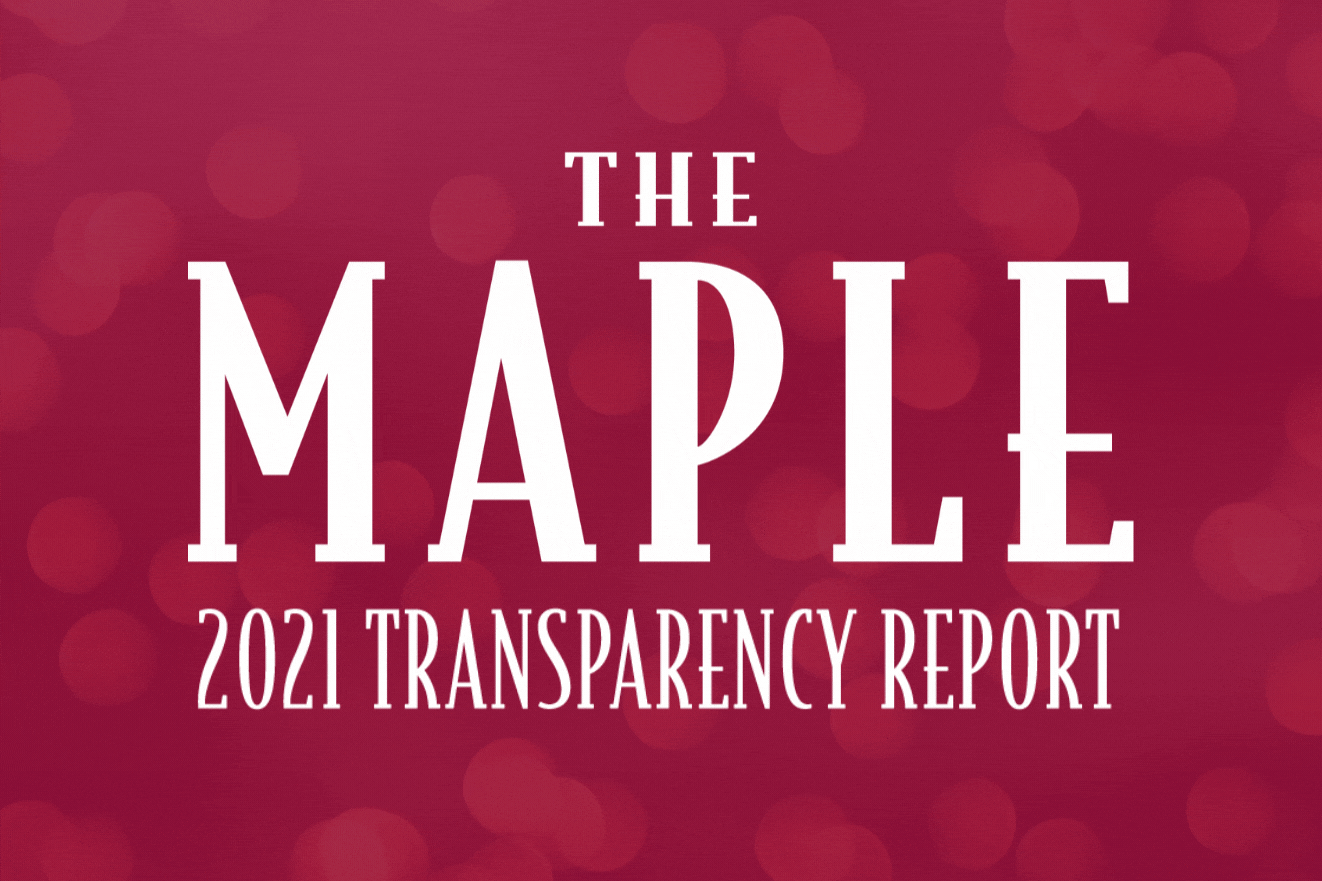 A Note From Our Managing Editor
Dear Maple readers,
When I took on the job as managing editor of The Maple back in August, I wasn't sure what to expect. I left behind a job that I loved, and knew that I was taking on a big risk by helping to build a brand new publication from the ground up.
In the space of just four months, we have already built a community of highly engaged readers who care deeply about the issues that matter to the 99%. As well, we've worked with some of the best freelance journalists in the country to publish outstanding public-interest journalism that you won't find in the corporate press.
As a publication supported entirely by our readers, I am very proud of what we have been able to achieve in these early days. But there is still much more work to be done.
With the support of our readers, long may the success of The Maple continue.
Alex Cosh.
Revenue
The Maple is reader-funded. Our work is funded by donations and paid subscriptions to our daily newsletter – the core "product" offered by The Maple. Apart from our newsletter, The Maple also publishes articles, investigative series, and podcast episodes – these are, however, publicly available for free.
As of November 22, 2021, The Maple has 1,196 paying subscribers who fund our work. Our subscribers are locked into varying subscription packages. Early supporters who signed up before our launch were able to take advantage of a one-time offer: $4 a month or $24 a year. Currently, a paid Maple subscription costs $5 a month or $48 a year.

The majority are currently annual subscriptions, with 986 supporters opting for the discounted yearly subscription, and 224 opting for the full-price monthly subscription.
Note: The Maple was previously the nonprofit North99. Those monthly donors have transitioned over to The Maple. While exact numbers are harder here, we estimate there are around 300 additional members that transitioned over from North99.
Fundraising Campaigns
Pre-launch Crowdfunding. In early August, we began crowdfunding to support the launch of The Maple. We offered early supporters a one-time offer to lock in an annual Maple subscription for $24. This crowdfunding effort brought in 467 founding subscribers to kick-start The Maple.
2021 Election Crowdfunding. Our first crowdfunding campaign set out to sign up 100 new paying subscribers in order to make our daily newsletter free to all for the remainder of the federal election campaign. Thanks to our readers, we blew past our goal and gained 215 new subscribers. We held up our promise and lifted our paywall for a limited time, offering issue guides and analysis so Canadian voters could make informed choices during the election.
Crowdfunding for the Great Gilded North Series. After circulating our first community survey, we heard from readers that they wanted us to prioritize launching a deep-dive series examining Canada's wealthy elites. We set out to fund the series through a fundraising goal of 100 new paying subscribers, eventually adding a stretch goal of 130 new paying subscribers. Thanks to our readers, we blew past our goal and gained 196 new subscribers.
The campaign has allowed us to commission the freelancers we need to roll out this series. The positive feedback from the series has been overwhelming. You can check out The Great Gilded North here.
Audience & Impact
Site Traffic. Since our launch, our website has had 133,204 unique pageviews and 69,439 users. Considering The Maple has only been around for four months, we take this as a great sign that our in-depth public-interest journalism is in demand.
Social Media Reach. Our outlet also has a sizable social media presence. Across Facebook, Twitter, and Instagram, our social channels reach an average 1,024,000 users every month.
Newsletter Readership. Central to The Maple's mission is our daily newsletter, which provides a roundup of top Canadian political news stories in an easy-to-read format. The newsletter's readership includes 1,196 paid subscribers who receive daily issues, and over 5,500 free subscribers who receive our Monday edition.
Nearly half of our newsletter readership is what we consider highly active, meaning they read over 50% of all newsletters they receive (an open rate of 20% is the industry average).
Top Stories
By most page views
Our favourite picks
The Maple is proud of all the work we publish. Below is a selection of stories that we think were particularly outstanding:
Expenses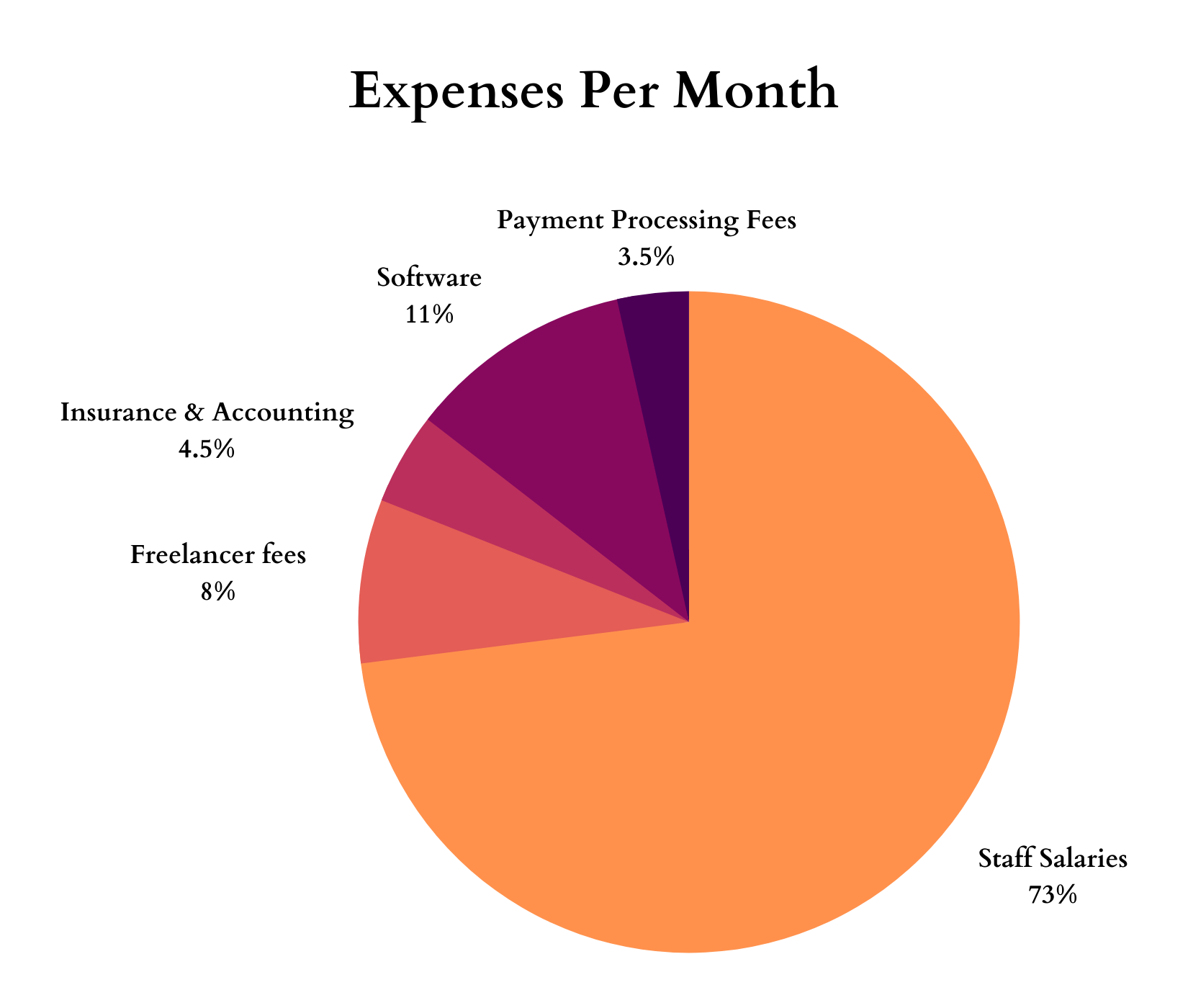 The above chart represents an estimate of the average breakdown of our monthly expenses.

As of this report, The Maple's monthly expenses currently surpass our monthly revenue. Running a reader-funded media outlet with no investor or advertising money is a risk. But the editorial integrity granted by the absence of corporate influence was, in our team's judgement, well worth the risk. The good news is we are well on track to become financially sustainable if our end-of-year crowdfunding efforts go well. You can read more about our 2022 goals at the end of this report.
Diversity
In the interests of protecting privacy, we are only able to provide general statistics regarding the diversity of our freelance contributors. We did not individually survey our writers, so the data we are able to provide is an estimate, and based on self-identification, where possible.
We recognize this makes the data less useful, but as a publication committed to countering the dominance of Canadian media by cis white men, it is necessary to provide what information we can on this issue.
In the four months since The Maple launched, we have published or worked on assignments (some of which are still in progress, or scheduled for publication after this report later in the year) with a total of 12 freelance writers.
Approximately 58% of those writers are white, compared to 73% of the Canadian population. However, this does not mean that all racialized and Indigenous peoples in Canada were adequately represented among The Maple's freelance contributors.
Approximately 50% of those freelance writers are cis men.
It is also important to note that The Maple's sole editorial employee is a cis white man responsible for writing our daily newsletter, in addition to regular news articles. This means the overwhelming majority of The Maple's total content to date has been authored by a cis white man.
To address this issue, The Maple commits to:
Prioritizing applicants from equity-seeking groups if/when we are in a position to hire permanent editorial staff.
Aiming to work with a team of freelancers in 2022 that is no more than 50% white.
Publishing more content from individual writers who are from equity-seeking groups.
Committing more time to working with all writers to ensure they feel adequately supported in seeing projects through to completion.
Corrections
Per our Journalistic Standards:
"As part of our commitment to fair and accurate reporting, we add corrections or clarifications to stories if they are found to contain inaccurate or incomplete information.
Whenever corrections or clarifications are added to articles after publication, we include an editor's note with the date the changes were made, and an explanation of what was changed and why."
Despite our best efforts to ensure everything we publish is 100% fair and accurate, minor mistakes do unfortunately occur, particularly as we currently have only one full-time editorial employee.
Below is a list of corrections added to our original reporting in our newsletters, news stories, explainers and interviews. The Maple regrets all these errors.
2022 Goals
We've already accomplished a lot in the past four months, and we plan to make 2022 an even bigger year for expanding our public-interest journalism.
Launch New Series That Dig Deep Into Key Issues
One of our most successful projects this year has been our Great Gilded North series. We came up with the topic for this series based on feedback from our readers.
Although we have only published a handful of articles for this series at the time of this report's publication, we consider Great Gilded North articles to be some of The Maple's best quality content. They're also among the most popular with our readers.
Having edited Great Gilded North articles and worked closely with writers for this project, I have found working on a series to be an excellent way to focus our editorial efforts, and to dig deeper into key topics that matter to our readers.
Over the coming weeks and months, we'll be asking our readers about which topics our future series should focus on.
Build Our Editorial Team
I love this job, but the truth is top-quality journalism is never a one-person operation. That's why I've been proud to work with some of the best freelance writers in the country. But we want to bring on board more part-time and full-time staff to work with our editorial team permanently.
If we get enough support to hire more staff, this will enable us to:
Increase the amount of original, top-quality journalism we can publish.
Develop a brand new newsletter dedicated to a topic that matters to our readers.
Allow me to dedicate more time to ambitious editorial projects.
As noted above, The Maple's sole editorial employee (i.e., me) is a cis white man. When we are in a position to hire a new, permanent member of staff, we will proactively seek candidates from equity-seeking groups, and prioritize applications accordingly.
Reach Financial Sustainability
As you can imagine, it's not easy to build independent media from the ground up. The Maple is still not financially sustainable, and its long-term existence is not certain.
Next week through to the end of December, we'll be running a crowdfunding effort to fix that. Here are our goals:
If we can bring on 200 new paying subscribers, we can extend the Great Gilded North series. Our first deep-dive series has been a massive success, but it's also just scratching the surface. We want to go even further and unveil more about how Canada's rich and powerful protect their influence.
If we can bring on 500 new paying subscribers, we can launch a new deep-dive series. Our readers have loved this format. It enables us to go beyond a cursory look at a topic. With multiple articles looking at different angles, we're able to provide more of the in-depth journalism that's sorely needed in Canada.
If we can bring on 800 new paying subscribers, we can hire a new part-time staff writer. If we can hit this target, it'll mean we're past financial sustainability and can invest in growing our publication. A part-time staff writer means we can write more stories, and most importantly, undertake more high-impact investigative work that takes time and resources.
As reader-funded media, we're accountable only to our readers. We don't have investor money, advertising income, or outside funding. But this also means our success depends on you.
If you support The Maple's public-interest journalism and want to see a strong progressive alternative to Canada's corporate media, subscribe today for as little as $4 a month (don't forget: You'll also get access to our exclusive daily newsletter).
P.S. If you're already a paying subscriber, thank you for your support - all of this has only been possible because of you. We hope that you will continue supporting us as we grow The Maple into a strong progressive voice for public-interest journalism. And if you want to join in on this crowdfunding campaign, you can always buy a gift subscription to The Maple for a friend or family member.